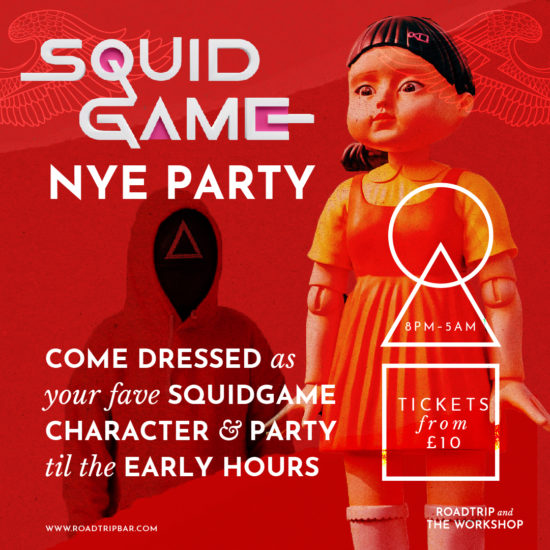 New Year's Eve Party @ Roadtrip & Workshop
Fri 31st Dec
8:00 pm - 5:00 am
A banging Squid Game New Year's Eve party at the Roadtrip & Workshop.
We are welcoming in 2022 by celebrating all the most popular show of 2021, Squid Game.
Our bar will be transformed into the number one show of 2021, Squid Game.
Take part in Red Light, Green Light in our Squid Game area. Or pit your wits against your friends in a game of Rock Paper Scissors or Honeycombe biscuits. Played throughout the night,  you'll have to make sure you can stand still at midnight to avoid certain death.
Our bar team will be serving up a selection of themed cocktails with awesome Squid Game-related flavors and twists.
Upstairs we will have  Joe Atari with classic cuts, mixing up fresh pop, afrobeats, hip hop, house & alt to create a snapshot of what London loves to dance to in 2021.
Downstairs we'll have Gem Precious playing an eclectic mix of genres. An artist who has provided entertainment in some of the biggest name shows with some big artists.
See in 2022 in style with a cocktail, good vibes and great music.
Tickets available on the door.
If you're joining us for NYE you will need to show your NHS Covid pass or proof of negative lateral flow or PCR test taken within the last 48 hours to gain admission. 
To make everyone's experience more enjoyable we're advising everyone to get to the venue as early as possible to ensure you don't have any delays getting in and you avoid the inevitable rush to get in before midnight.