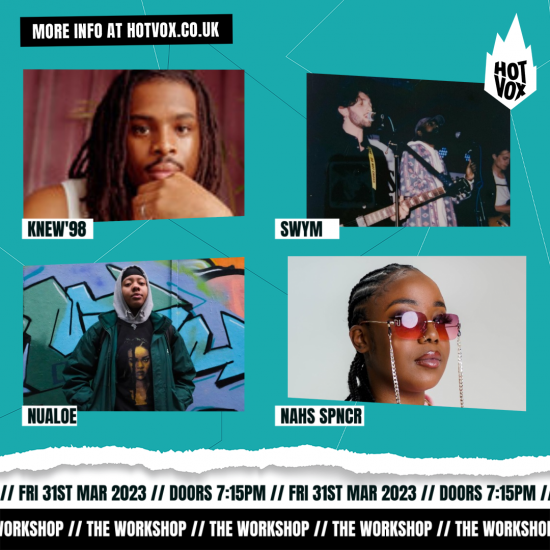 KNEW'98 Presents: CARAMEL TAPE
Fri 31st Mar
7:00 pm - 11:00 pm
KNEW'98 Presents: CARAMEL TAPE + Support
The Workshop is a little gem of a discovery underneath the Roadtrip Bar on Old Street. With an underground hacienda feel, this sweatbox venue is the perfect setting for bands cutting their teeth on the scene, or those wanting to get up close and personal with the crowd.
Knew'98
https://hotvox.co.uk/artist/knew98/
Knew'98 is an artist, producer and engineer hailing from North London. '98 makes Alt R&B and Hip-Hop, often merging various genre and cultural influences, leaning towards the more soulful approach as heard on his single 'Hold Up'.
With a string of releases scheduled to drop this year, followed by an EP, you're sure hear more of his unique sound.
SWYM
https://hotvox.co.uk/artist/swym/Say What You Mean, that's exactly what SWYM (Swim) do with every song and story that they tell. Dive into a hip-hop, neo soul, RnB experience that will leave you wanting more. SWYM wants you to really dip into your pool of emotions drawing inspiration from the likes of Tom Misch, D'angelo and Thundercat to talk about some of the harder life topics that need to be discussed.
NuAloe
https://hotvox.co.uk/artist/nualoe/NuAloe is a Nigerian and Jamaican South London singer and rapper. With musical roots watered by her fathers eclectic music taste of Jazz, Afro Beats, Reggae, Soul and RnB. This infuses into her sound and approach to music. Bringing a different perspective and identity to the music scene is essential to NuAloe's musical work. Engaging in topics ranging from, Blackness, Queerness, Activism and South London living. Nina Simone, Erykah Badu, Lauryn Hill, ATCQ, Mos Def, Queen Latifah and many more are the soundtrack to her life, inspiring her sound. Her music continues to grow on listeners, offering much more than a musical experience.
Nahs Spncr
https://hotvox.co.uk/artist/nahs-spncr/"Nahs Spncr, often described as an old soul, is a North-London singer/songwriter. Her unique voice is a breath of fresh air, tapping into genre's such as House, Funk, Jazz, Afro-Beats, Alternative Neo-Soul & R'n'B, creating timeless music for all to enjoy. Join this journey with Nahs Spncr as she takes us through her art, influenced by her many talents such as dancing, acting & pianist, adding something special to each and every track. Her creative mind will see us through the stories she is able to create & place images in our minds to resonate with."