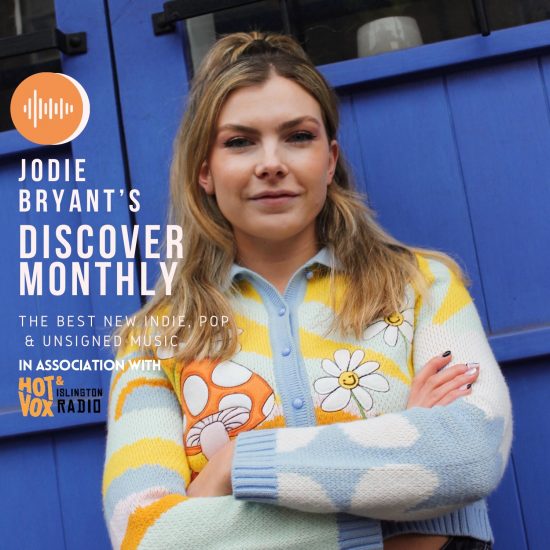 Jodie Bryant's Discover Monthly in Association with Hot Vox
Wed 23rd Mar
7:00 pm - 11:00 pm
Jodie Bryant hosts 'Discover Monthly' which takes a look at the best new music across the globe every month. With previous interviews including Arlo Parks, Matilda Mann, HYYTS and Priya Ragu … you know we have good taste!
Jodie is curating the 'Discover Monthly Live Showcase' in partnership with Hot Vox and we are bringing the show to real life with some of the best undiscovered talent performing live at Roadtrip & The Workshop on Old Street – Wednesday March 23rd. We are excited to present to you a strong female lineup consisting of Flo Gallop, GLOWE and Natalie Shay!
The gig will get you ahead of the game and put these artists on your radar before they're on everyone else's – so make sure you come down to hear some of the hotly tipped artists for 2022! Do not miss!
Flo Gallop – 
South-east London born and bred, Flo was raised around music, her dad made songwriting feel like breathing. Without it she would choke. So, she sat, scribbling words, diarising an everyday life through the musicality and soul of a natural artist that would eventually emerge, fully formed, as a friend in your ears.
GLOWE –
Aspiring Actor and Singer Glowe aka Georgia Lowe is back with a new look and sound for her first single of 2022 'Emotional' prod by Dan D'lion and Joesph wander. The singer/songwriter from Hertfordshire set her tone in 2020 where we saw the artist release her first EP, 'Daughter', which featured the hit track 'Better Than You Do' reaching over 300,000 streams on Spotify alone. Her organic and raw lyrics are what set her apart from other artists in Spotifys 'New Pop
Revolution', NMF and New Pop UK.

Natalie Shay –
Natalie Shay is an indie pop artist hailing from North London. The multi award-winning musician has established an ever-growing presence and loyal fanbase through her explosive live performances and unforgettable anthems, recognising her as one of the UK's hottest emerging talents. Her relatable lyrics touch on love, self-discovery and the everyday experiences of a twenty-something. Compared to the likes of Haim, Little Comets and Fickle Friends, the Londoner has absorbed a similar energy and dynamic within her new music, resulting in a sound which oozes with passion and allure.