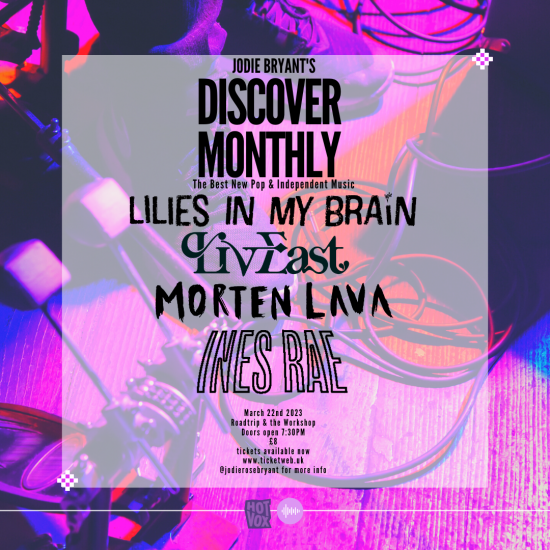 Jodie Bryant's Discover Monthly ft. : Lilies In My Brain // Liv East // Morten Lava // Ines Rae
Wed 22nd Mar
7:00 pm - 11:00 pm
HOT VOX Presents:  Jodie Bryant's Discover Monthly ft. : Lilies In My Brain // Liv East // Morten Lava // Ines Rae
Jodie Bryant hosts 'Discover Monthly' which takes a look at the best new music across the globe every month. With previous interviews including Arlo Parks, Matilda Mann, HYYTS and Priya Ragu … you know we have good taste!
Jodie is curating the 'Discover Monthly Live Showcase' in partnership with Hot Vox and we are bringing the show to real life with some of the best undiscovered talent performing live at Roadtrip & The Workshop on Old Street – Wednesday March 22nd. We are excited to present to you a strong lineup consisting of Lilies In My Brain, Live East, Morten Lava and Ines Rae!
The gig will get you ahead of the game and put these artists on your radar before they're on everyone else's – so make sure you come down to hear some of the hotly tipped artists for 2023! Do not miss!
Tune in to Jodie Bryant's Discover Monthly Podcast in association with Hot Vox for exclusive interviews, new releases, breaking acts and to discover your new favourite artist. www.discovermonthly.co.uk
Lilies In My Brain
https://hotvox.co.uk/artist/lillies-in-my-brain/
Lilies in my brain is a south London-based, female-fronted four-piece that straddles the spectrum between indie-pop and pop-punk. They formed officially in 2021 after a number of years playing in a variety of bands and projects across the UK and southern France. They released a self-produced album, 21=2a+7, which has since gone on to have plays on BBC Introducing and Amazing Radio.
Their music leans on an array of inspirations including the punky stylings of Alkaline Trio, experimental singer-songwriters such as Angel Olsen and guitar sounds from Springsteen and the Smiths, melding them together into a unique sound that resonates with fans of Wolf Alice, Mitsky, Pom Pom Squad and Wet Leg.
Liv East
https://hotvox.co.uk/artist/liv-east/Flitting between dance music, alternative R&B and neosoul, Liv East has had a busy few years collaborating with an array of talented artists- certainly proving her adaptability is testament to her dexterity as an artist. She relishes this freedom to hop between genres, preferring to mould tracks according to emotions and mood rather than following pre-defined formulas. The East london songstress has recently released her multi genre single 'So Badly' which has picked up a lot of attention, proving she is a name to watch out for the rest of the year.
Morten Lava
https://hotvox.co.uk/artist/morten-lava/Multi-talented artist Morten Lava's sound is defined by ear-grabbing topline melodies, emotive lyrics and spellbinding productions but with a down-to-earth relatability. Born and raised in Denmark and currently based in London, Morten uses music to channel feelings of loneliness, lost love and nostalgia. His first single of 2023 "Fake It" explores the late night feelings of melancholy after a breakup wrapped in an energetic ambience and received plays from BBC Radio 1 Future Pop and landed on New Music Friday UK and Fresh Finds Spotify playlists. Morten has performed across many London venues such as O2 Shepherd's Bush Empire as well as sold out headline shows at the O2 Islington2.
Ines Rae
https://hotvox.co.uk/artist/ines-rae/Ines Rae burst onto the scene in 2021 with her distinctive rich vocal tone. At just 20 years old she's already amassed a significant following on Spotify releasing music that firmly established her in the pop-dance world. Her most recent dance track in collaboration with @shura was featured in the latest season of Love Island and Netflix series of Emily in Paris,  and reached top 11 most Shazammed songs in the USA and in the top 50 globally. One of @onestowatch ones to watch, her first headline show in April sold out in just 24 hours.  Working with the likes of Woody from Bastille, and some of the UK's most talented producer-songwriters, 2023 looks set to be an exciting year for Ines Rae.