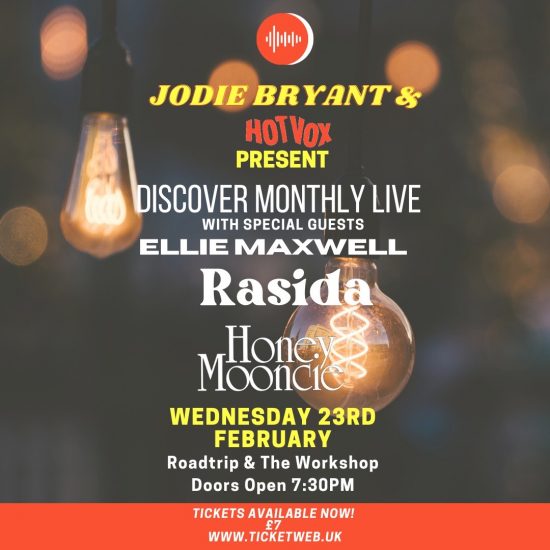 Jodie Bryant hosts 'Discover Monthly'
Wed 20th Apr
7:00 pm - 11:00 pm
Jodie Bryant hosts 'Discover Monthly' which takes a look at the best new music across the globe every month. With previous interviews including Arlo Parks, Matilda Mann, HYYTS and Priya Ragu … you know we have good taste!
Jodie is curating the 'Discover Monthly Live Showcase' in partnership with Hot Vox and we are bringing the show to real life with some of the best undiscovered talent performing live at Roadtrip & The Workshop on Old Street – Wednesday February 23rd. We are excited to present to you a strong female lineup consisting of Ellie Maxwell, Rasida and Honey Mooncie!
The gig will get you ahead of the game and put these artists on your radar before they're on everyone else's – so make sure you come down to hear some of the hotly tipped artists for 2022! Do not miss!
Ellie Maxwell – 
Ellie Maxwell is an R&B singer/songwriter, hailing from Ealing, West London. Her main influence is real life experiences and she also loves to listen to artists such as Frank Ocean, Jorja Smith, Etta James and many more. Music has always been at the core of Ellie's life, she started playing the piano at the age of 6 and began songwriting at 15. Since then, she has written and recorded a plethora of material ahead of the release of her debut ep, set to be released in spring 2022. Her newest single 'Falling' drops on February 11th.
Rasida –
Rasida is a 21 year old singer/songwriter from East London. Her main influences are Timbaland and Stevie Wonder, and she has performed sets on the main stages of LOVEBOX, All Points East and The Royal Albert Hall – She released 'Dont Go Back' last year and is preparing music to drop throughout the rest of 2022.
Honey Mooncie –
 
At only 20 years old, Honey Mooncie is already one of Britain's most highly regarded up and coming new artists. She began writing music at 11 years old and is influenced by the song writing greats but also classic pop to create her own unique style combining the retro with contemporary.
Having been championed since the release of her debut single 'Should've Been You' Honey was announced as one of Jack Saunders 'Future Artists' on BBC Radio 1. Honeys debuted her mixtape 'To Whom It May Concern' at the end of 2021. It  is an accomplished collection of songs that sees Honey team up with Fred Cox and Owen Cutts for the majority of its tracks, tackling everything from Neo-Soul, Jazz-Pop and singer-songwriter balladry, marking Honey as versatile in her songwriting as she is prolific.
Her stunning vocals, modern storytelling and effortless combination of Neo-Soul, R&B and Jazz-Pop have made her a sought after collaborator. Which has led Honey back to the studio working with world class producers with the next batch of music out Summer 2022.