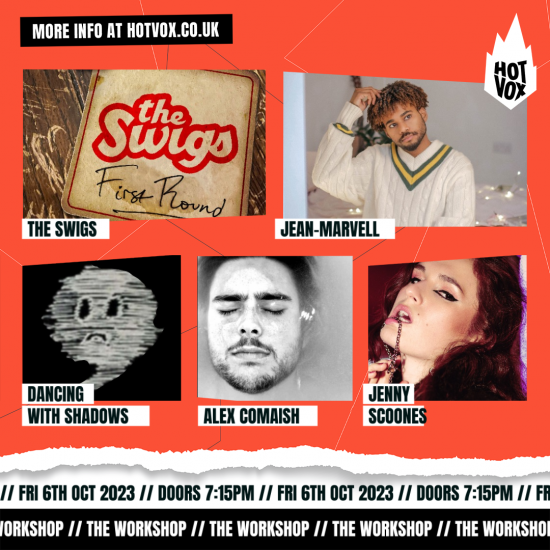 HOT VOX Presents:The Swigs // Jean-Marvell // Dancing with Shadows // Jenny Scoones // Alex Comaish
HOT VOX Presents:  The Swigs // Jean-Marvell // Dancing with Shadows // Jenny Scoones // Alex Comaish
The Workshop is a little gem of a discovery underneath The Star in Shoreditch. With an underground hacienda feel, this venue is the perfect setting for bands cutting their teeth on the scene, or those wanting to get up close and personal with the crowd.
The Swigs
https://hotvox.co.uk/artist/the-swigs/
Formed out of the Camden music scene, indie-rock band The Swigs fuse everything from disco to classic rock to Irish influences into high energy songs with a distinctive sound. With hummable melodies and head banging guitar solos aplenty, a memorable show is guaranteed.
Jean-Marvell
https://hotvox.co.uk/artist/jean-marvell/Jean-Marvell was born and raised on the Dutch island of St. Maarten. Growing up, he was surrounded by a rich and colourful environment that inspired him to engage in various musical acts, honing his skills and developing his sound. Seeking new artistic opportunities, the artist decided to relocate to London, to fully immerse myself in the city's music scene. Signed to London Noise Records, he is determined to win fans' hearts over, one at a time.
Dancing with Shadows
https://hotvox.co.uk/artist/dancing-with-shadow/Dancing with Shadows are the newest addition to South London's Indie Rock scene. With influences such as Wolf Alice and Radiohead, Dancing with Shadows brings a raw, distinctive sound enjoyed by a variety of audiences. Starting off as just four friends who met studying music at university, the band has progressed into a dynamic Indie Rock group who stamp much loved songs, with their own twist.
Jenny Scoones
https://hotvox.co.uk/artist/jenny-scoones/Jenny Scoones is a trans singer-songwriter and poet based in London. Her music fuses a literary sensibility with a penchant for storytelling and aesthetics. Her artworks incorporate live shows, the written word, recorded music and video – a patchwork of self-expression in the tradition of her inspirations Madonna, Andy Warhol and the the Velvet Underground, and Lana Del Rey.
Alex Comaish
https://hotvox.co.uk/artist/alex-comaish/Alex Comaish is a Singer/Songwriter hailing from the English South West. His debut single was his first, and his latest was his most recent. With lyrics containing mostly words, and chords and melodies made up of collections of notes, he has a voice that is all his own.