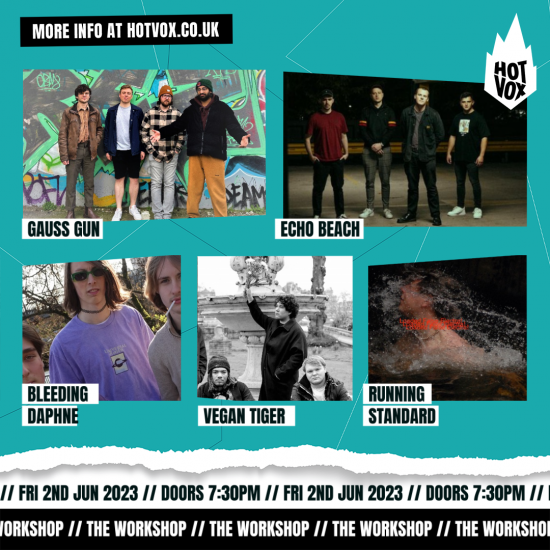 HOT VOX Presents:Gauss Gun // Echo Beach // Running Standard // Vegan Tiger // BLEEDING DAPHNE
HOT VOX Presents:  Gauss Gun // Echo Beach // Running Standard // Vegan Tiger // BLEEDING DAPHNE
The Workshop is a little gem of a discovery underneath the Star In Shoreditch on Old Street. With an underground hacienda feel, the venue is the perfect setting for bands cutting their teeth on the scene, or those wanting to get up close and personal with the crowd.
Gauss Gun
https://hotvox.co.uk/artist/gauss-gun/
Gauss Gun are a 4-piece indie rock band specialising in power pop, alt-rock and neo-psychedelia, operating in and out of the London metropolitan area. Expect a joyful, well-oiled show with original songs, gripping hooks and riffs firing at all cylinders.
Echo Beach
https://hotvox.co.uk/artist/echo-beach-3/Echo Beach are a four piece Indie-Rock band based in Manchester
Running Standard
https://hotvox.co.uk/artist/running-standard/Running Standard cuts a distinctive blend of folky alternative rock and hazy electronica. Brothers Angus and Matt released their eponymous debut album in 2020, made in a caravan during the sweltering heat of the first lockdown as an hommage to the endless days of summer in the Lake District, and have since doubled down on the experimental strain in their music. The brothers have returned to live performing with a verve, bringing their alternately intimate and riotous creations to life with help from fellow bandmates Paddy and Dan. They are continuously chiselling out new material inspired by the raw energy of live performance and plan to release a fresh album by the end of 2023.
Vegan Tiger
https://hotvox.co.uk/artist/vegan-tiger/Roaring onto the London music scene, Vegan Tiger has arrived to exhilarate your heart with their ferocious blend of Post-Punk, Alt Rock, Math Rock, and Pop.  This cutthroat band will shatter your lungs with their fast-drumming beats, razor-sharp lyrics, and ear-shattering instruments.
Don't let their name fool you, they're meaty in all the right places.
BLEEDING DAPHNE
https://hotvox.co.uk/artist/bleeding-daphne/We are a Alternate-rock band from around Guildford & SW London inspired by the likes of pavement, dinosaur Jr, and nirvana. We bring high energy to all our gigs trying to put on the best show we can for audiences. Our back catalogue (not yet released) is extensive with songs for everybody on there ranging from slow and sweet songs to energetic crowd movers to catchy choruses, we can bring it all with over 300 songs in our recordings. If you are looking at this I strongly urge you to listen to a couple of our tracks as I think just one doesn't do justice to what we can do.