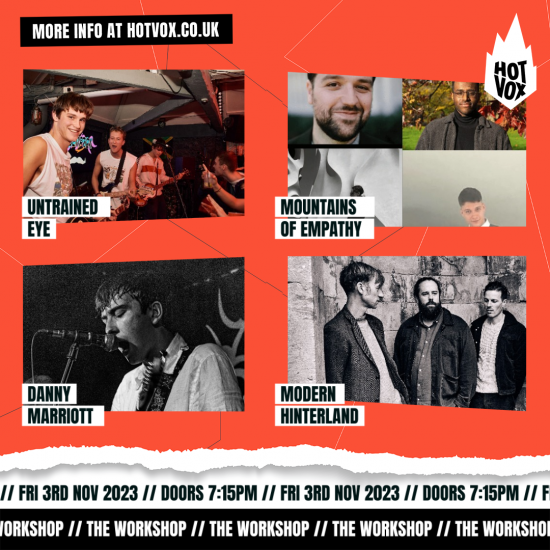 HOT VOX Presents: Untrained Eye // Mountains of Empathy // Danny Marriott // Modern Hinterland
The Workshop is a little gem of a discovery underneath The Star in Shoreditch. With an underground hacienda feel, this venue is the perfect setting for bands cutting their teeth on the scene, or those wanting to get up close and personal with the crowd.
Untrained Eye
https://hotvox.co.uk/artist/untrained-eye/
Untrained Eye are an up and coming 4 piece rock band from South-West England. Their music exudes youth, energy and attitude in abundance yet they also love to contrast that with some real emotion and delicacy to their music.Freddie Pratt (lead vocals/guitar), Joe Stallard (bass) and the twins Sam Usher (lead guitar) and Will Usher (drums) possess an untangible chemistry that the audience can't help but feed off. Their unique charisma and music reminicsent of The Stone Roses, The Kinks and The Libertines will leave you wanting more and more.
Mountains of Empathy
https://hotvox.co.uk/artist/mountains-of-empathy/Formed in a time of grief, Mountains of empathy attempt to bring genuine emotion out in every song they write. Whether you are dealing with loss, abandonment, depression, or just wanna rock out, they are there for you.
Formed six months ago, planning to release their first single at the end of this month and an EP soon on the way, the band are very excited and happy to be able to share their music with you for the first time.
Danny Marriott
https://hotvox.co.uk/artist/danny-marriott/Danny Marriott is an Indie Artist from London and has been writing, playing, and releasing fast paced, chorus filled, alternative rock music for the last few months.
Some of his influences include: Two Door Cinema Club, Sam Fender, and The Wombats, to name a few.
Modern Hinterland
https://hotvox.co.uk/artist/modern-hinterland/Formed in 2018 as a natural expansion of Chris Hornsby's solo work, Modern Hinterland has since released three records, merging Folk, Americana and Indie to develop a distinct sound of their own.
Championed by the likes of Steve Lamacq on BBC 6 Music, BBC 6 Music Recommends, BBC Introducing North East and Radio X (John Kennedy) the band bonded over a mutual love of big choruses, sharp hooks and experimental interludes, creating a sonic melting pot with songs rich in storytelling.
Their last album, 'Diving Bell' was released on Label Fandango in January 2021. The four-piece, now with a refreshed line-up, are back on the road, with new music planned for 2023.