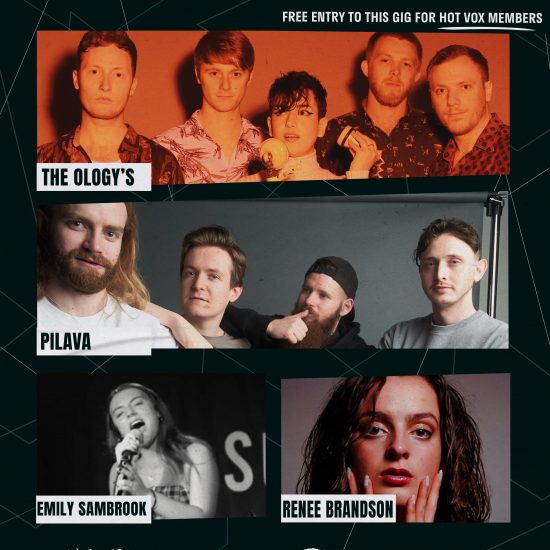 HOT VOX Presents: The Ology\'s // PILAVA // Renée Brandsen // Emily Sambrook
Fri 7th Oct
7:00 pm - 11:00 pm
The Workshop is a little gem of a discovery underneath the Roadtrip Bar on Old Street. With an underground hacienda feel, this sweatbox venue is the perfect setting for bands cutting their teeth on the scene, or those wanting to get up close and personal with the crowd.
The Ology\'s

Formed in 2020, The Ology's are a 5 piece Indie Pop/Rock band from Bedfordshire. Influenced by artists such as Fleetwood Mac, Kings of Leon and The Libertines, The Ology's music aims to ignite nostalgia and good vibes in its listeners. In July 2020 they released their debut EP titled 'Introducing…' which showcased their song-writing talents. Since that release, The Ology's have enjoyed numerous gigs in and around the London area. In December 2021 they released their single 'Faith'. 2022 will see The Ology's play at The XOYO, Spice of Life and Fiddler's Elbow in London and The Stables in Wavendon amongst other venues around the Midlands.
PILAVA

Fast and bright rock music from the depths of South East London.
Do you have a dog's birthday, ribbon-cutting ceremony or gender-reveal party that needs spicing up? PILAVA will play all original, poorly-practised songs at your event and may even make up some new ones on the spot.
Your mouth may say "my event is ruined", but your hips don't lie and there's no chance they won't be wiggling along to the dirty pint mixture of blues guitar and dancey drumbeats that we'll be providing.
This could all be yours for the low low guarantee of 10 litres of water in 2035
Renée Brandsen

Renée Brandsen is a vocalist, songwriter, saxophonist and pianist who moved London at the age of 18, from a small town in The Netherlands, to bring music to the rest of the world.
She uses her colourful vocal timbre to merge sophisticated melodies, reminiscent of pop rock ballads of the 80s and 90s , merge with the balls and beats of modern RNB-pop. Aside from writing the band's material herself, she also performs saxophone in her sets.
Accompanied by her band she hopes to tell her story and inspire others to, no matter where you're from, you can always build your own stage.
Join Renée and find your equals at a trip down memory lane – with a modern twist.
Emily Sambrook

Emily Sambrook is a London based singer/songwriter whose lyrics have depth and meaning with a Indie-Pop sound. Studying at BIMM London, she started her music career by having multiple single releases on all streaming platforms. As of now, her songs are being played on BBC Introducing and BBC WM and Emily has been featured in podcasts and magazine interviews such as The Express. Emily has played at all venues around London, Birmingham and Bristol, after headlining the O2 Academy and the O2 Institute, the inspirations for her music come from artists such as Olivia O'Brien, Lennon Stella, Charlotte Lawrence and Jaira Burns.