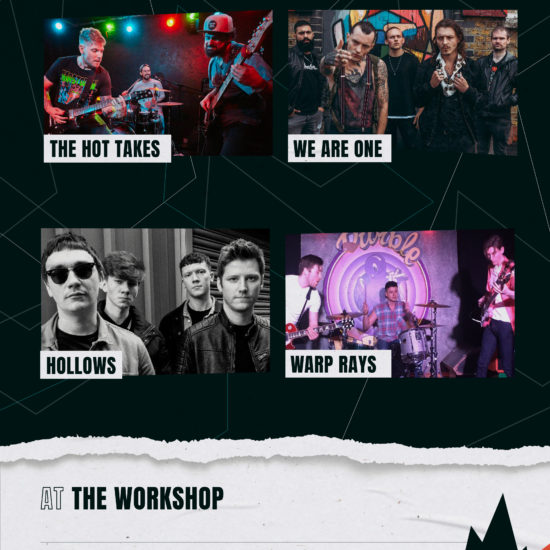 HOT VOX Presents: The Hot Takes // We Are One // Hollows // Warp Rays
Fri 22nd Oct
7:30 pm - 10:00 pm
HOT VOX Presents:  The Hot Takes // We Are One // Hollows // Warp Rays
The Workshop is a little gem of a discovery underneath the Roadtrip Bar on Old Street. With an underground hacienda feel, this sweatbox venue is the perfect setting for bands cutting their teeth on the scene, or those wanting to get up close and personal with the crowd.
The Hot Takes
https://hotvox.co.uk/artist/the-hot-takes/
The Hot Takes are a blistering three-piece London-based act who bring huge riffs, catchy hooks and an Antipodean casualness to their cacophanous sound.Formed in 2020, the two-part Aussie, one-part Kiwi three-piece found themselves in pandemic limbo, using lockdown to write material and hone their sound, bringing in influences as far and wide from Queens Of The Stone Age, Billy Talent, through to Jimmy Eat World and Biffy Clyro.Surviving the coronavirus, the band managed to record their debut EP, 'Tremors', mixed by US producer Marc McClusky (Weezer/Motion City Soundtrack/LetLive), five huge tracks coming to streaming services everywhere in October.
We Are One
https://hotvox.co.uk/artist/we-are-one/

Hollows
https://hotvox.co.uk/artist/hollows/
Hollows are a 4 piece Alt/Indie Rock band lining up with Sean Davies on rhythm guitar and vocals, Dan Dyson behind the kit, Jack Barnes on bass and Liam Lewis playing lead guitar.The current line-up are based in the North West of England, splitting time between Manchester and Merseyside. The Cure, Joy Division, Kings Of Leon, Radiohead and The Strokes are only a handful of bands to influence the band despite live reviews delivering comparisons to Placebo and The Charlatans.Advice – "It sounds like Hollows are really themselves when on a stage. Taking the pandemic to write more anthems, 'Advice' will certainly get people dancing at live shows, or in the meantime, your house!." – RGM
Warp Rays
https://hotvox.co.uk/artist/warp-rays/
3 piece IndieRock/Surf/Grunge band based around Reading. Writing and performing original material influenced by artists such as The Wytches, Amazing Snakeheads, Black Keys, Nirvana, Led Zeppelin and White Stripes.