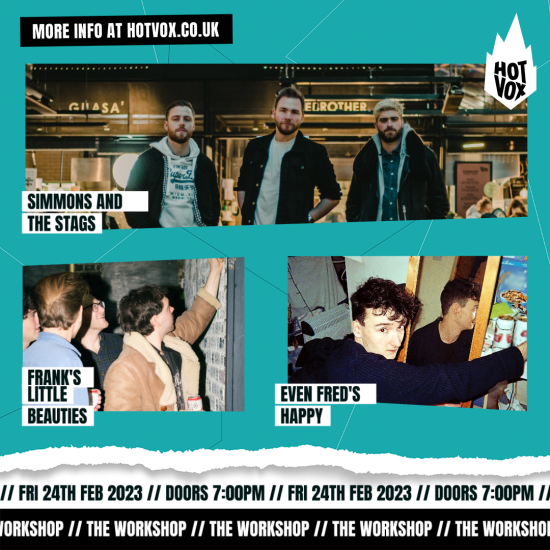 HOT VOX Presents: Simmons And The Stags
Fri 24th Feb
7:00 pm - 11:00 pm
HOT VOX Presents: Simmons And The Stags
The Workshop is a little gem of a discovery underneath the Roadtrip Bar on Old Street. With an underground hacienda feel, this sweatbox venue is the perfect setting for bands cutting their teeth on the scene, or those wanting to get up close and personal with the crowd.
Simmons And The Stags

Originating from South East London, Simmons And The Stags are a 4 piece band consisting of Sean (Simmons), Mikey, Tom and Matt. With energetic guitar riffs, loud drums and stadium hooks the band will get any crowd moving and chanting with their fan favourites "Get Drunk" and "Lucy".
Following the release of their debut EP "STAGS" which peaked at 53 in the UK iTunes Album Charts on release and their UK tour in 2022, the band are pushing forward in 2023 with their new single "Is It Over" and currently working on their debut album & 2023 tour.
Frank's Little Beauties
Even Fred's Happy

Post-pop outfit Even Fred's Happy are bringing their latest project to the stage in 2023.
Following the release of four singles in 2020, Freddie Buckley is taking the genre-bending exploration of mental health and happiness into a 7 piece live show.
The songs themselves explore false confidence, the inevitable breakdown that follows, and how ultimately pointless the entire endeavour is. If you can confront your problems with a dance and a good time, why worry about everything else?
Mental health comes in many shapes and sizes, and if Even Fred's Happy can provide even just a wry smile in its exploration of this, then the job is done.
It should be fun.
But it's definitely not normal.
DOORS OPEN: 7:00pm
MINIMUM AGE: Strictly 18+ (I.D may be required)
STUDENT DEALS: NHS Staff and music students (ACM, BIMM and ICMP) can buy tickets on the door for £7. Valid NHS or student photo ID required and entry is subject to capacity.
VENUE ADDRESS: 243, Old Street, London, EC1V 9EY
VENUE WEBSITE: https://starinshoreditch.co.uk
VENUE PHONE: 020 7253 6787
TICKET LINK: https://bit.ly/3Xc9gSa
FACEBOOK EVENT: https://www.facebook.com/pg/hotvox/events
HOT VOX EVENT LISTING: https://hotvox.co.uk/event/80539/
HOT VOX: www.hotvox.co.uk