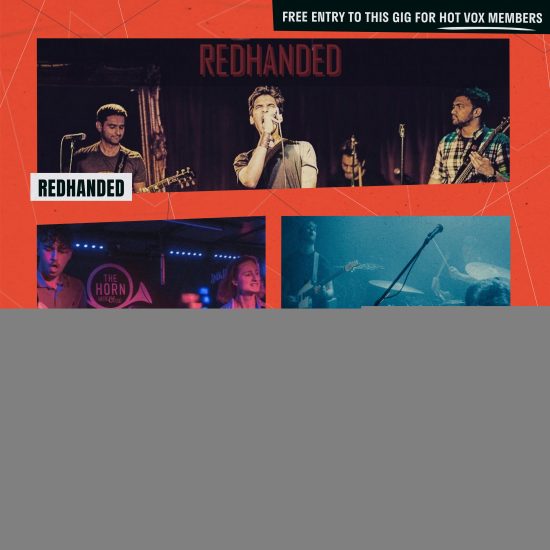 HOT VOX Presents: Redhanded // OWES // Krooked Tongue // StoneCrown // Luca Settembrini
Sat 3rd Sep
7:00 pm - 11:00 pm
HOT VOX Presents:  Redhanded // OWES // Krooked Tongue // StoneCrown // Luca Settembrini
The Workshop is a little gem of a discovery underneath the Roadtrip Bar on Old Street. With an underground hacienda feel, this sweatbox venue is the perfect setting for bands cutting their teeth on the scene, or those wanting to get up close and personal with the crowd.
Redhanded
https://hotvox.co.uk/artist/redhanded/
Redhanded are a four-piece British alternative hard rock band from London in the United Kingdom. Having managed to harness the classic sound of an era all whilst injecting their own unique and inviting twist. Delivering gritty Rock N Roll at its finest, Redhanded showcases high energy, electrifying guitar solos all drenched with poetic yet moody lyricism. Drawing on the influences of classic rock, grunge and progressive metal, the band have established their own interpretation of modern rock which is fresh and authentic.Redhanded's debut album 'Retrograde' was released on 22nd April 2022. Follow them on Spotify, Instagram and Facebook to keep in touch.
OWES
https://hotvox.co.uk/artist/owes/OWES are a 4-piece Alternative Punk band from Hemel Hempstead, Hertfordshire. Within their short time of playing live shows they have played headline shows and have also been invited to support the likes of Strange Bones, DITZ & Lady Bird.
Krooked Tongue
https://hotvox.co.uk/artist/krooked-tongue/Formed in 2019, Krooked Tongue released their celebrated debut single 'I Wanna Steal Your Car' the same year, which soon saw them embark on their first UK tour. 2020 saw the cancellation of their second UK tour and the postponement of shows alongside the likes of Dinosaur Pile-Up and Turbowolf, as well as festival slots at Boardmasters and 2000 Trees. They instead spent their time honing in on a more refined studio sound with Josh Gallop of Phoxjaw at Stage 2 Studios in Bath, working to help replicate their formidable live act.
StoneCrown
https://hotvox.co.uk/artist/stonecrown/Hard Rock/Sleaze Metal  Band Formed in 2019,
As a new project that hones in on the 90s rock sound with a new twist.
Looking to share our love and passion for hard-rocking music!
Luca Settembrini
https://hotvox.co.uk/artist/luca-settembrini/I am an Anglo-Italian performer, composer and rock guitarist. I was born in Italy and started pIaying the guitar at 6 years old…a few years later, some inspiration from musicians as diverse as Vivaldi to Queen to Joe satriani, and a little spinkle of magic, and here I am living and playing gigs in London.
Along the way, I have recorded two albums of instrumental rock music – "Next Step Up" and "Chronicles of Metamorphosis" which are available for download, and am always looking forward to the next opportunity to play live.