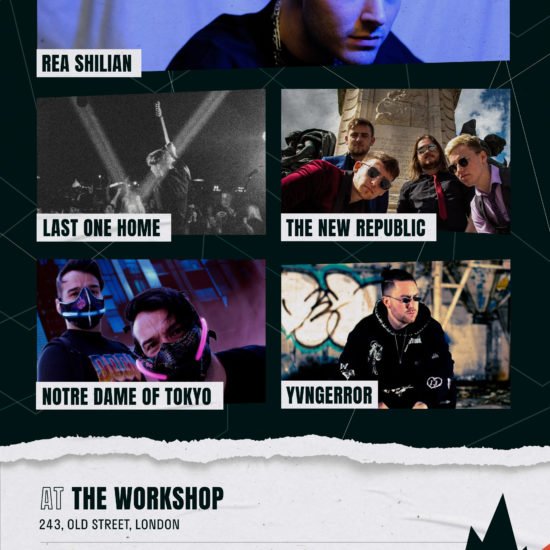 HOT VOX Presents: REA SHILIAN // Last One Home // The New Republic // Notre-Dame of Tokyo // Yvngerror
Fri 3rd Dec
7:00 pm - 11:00 pm
HOT VOX Presents:  REA SHILIAN // Last One Home // The New Republic // Notre-Dame of Tokyo // Yvngerror
https://hotvox.co.uk/artist/rea/
Rea Shilian is a singer/songwriter, producer and visual artist. His dark, experimental pop fuses synthesisers and real life sounds with storytelling lyrics, giving his music a twisted and cinematic vibe inspired by Kraftwerk and Glass Animals.
Rea's ambition is that of combining his passion for cinema and music into a single medium: a universe in which the music scores the characters' journey.
"Stories are what drive people to feel and engage with the world… I want everyone to discover mine", says Rea.
Last One Home
https://hotvox.co.uk/artist/last-one-home-2/Alt pop rock outfit Last One Home is Tom Westlake, Matt Bond and Fin Dawes.
Taking influence from bands across multiple genres; they create a unique sonic fusion of alternative anthemic pop and rock. Creating an enduring presence in the up and coming music scene, LOH provide fans with hooky, relatable, sing-along numbers.
The band surged out of the South West, with a major tour in February 2020, taking in Plymouth, Exeter, Bristol, London, Liverpool, Leeds, Southampton and Nottingham.
In 2019 they made it to the top 20 shortlist of the DrakeYolanDa Award and played prestigious festivals across the South West, such as Godney Gathering and thrived through a headline slot at Home Farm Fest.
The New Republic
https://hotvox.co.uk/artist/the-new-republic/Punchy riffs. Groovy licks. And bags of infectious energy. The New Republic welcome a breath of fresh air to the indie rock scene with one goal in mind – to get people dancing.
Stemming from East Yorkshire, with a strong fanbase in Birmingham, Leeds & Hull, the band combines the funky backbone of the Red Hot Chili Peppers with crisp, catch melodies reminiscent of The Strokes and Foals. It's this unique, hypnotic sound that has earned them multiple gigs around the UK – spreading the groove and love everywhere they go.
Notre-Dame of Tokyo
https://hotvox.co.uk/artist/notre-dame-of-tokyo/The two clones brothers, Alcor and Eito, with J-34n a cynical prototype robot, created a new project while the world fell into a worldwide pandemic crisis. With a strong Swedish metal influence from the brothers, a wave synth robotic bass and a zest of London rock'n'roll/sex/drugs culture, a cyber/rock band is born. It's new but it's not, it's entertaining but it reminds us sometimes how miserable we are, it's beyond any kind of beliefs but it's Notre-Dame of Tokyo.
Yvngerror
https://hotvox.co.uk/artist/yvngerror/YVNGERROR is the latest hot British Indie Alternative Artist hailing from West London Middlesex. Using a fresh British Indie Rock vibe and representing the flair of British Culture, the
YVNGERROR movement creates a unique perspective on the complete and complex spectrum
of the human essence and dares to challenge everything that is known.
Who Is YVNGERROR? You may ask. YVNGERROR is a distinctive individual that fearlessly not only takes chances but plays them hard and plays to win.
FOLLOW YVNGERROR at:
https://www.instagram.com/yvngerrorofficial
https://open.spotify.com/artist/6RbbzrdMpAG8y6wVkCKXo1
https://www.youtube.com/channel/UCR3sGxAN-JeQKDKHRFEcbxg
MINIMUM AGE: Strictly 18+ (I.D may be required)
STUDENT DEALS: Music students (ACM, BIMM and ICMP) receive Early Bird Ticket price on the door. Valid student photo ID required and entry is subject to capacity