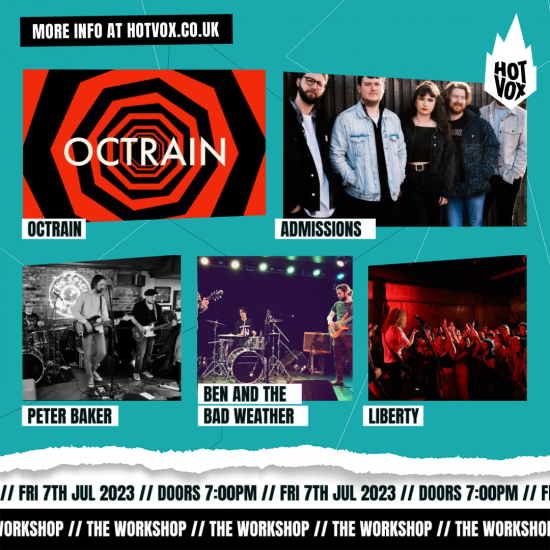 HOT VOX Presents: OCTRAIN // ADMISSIONS // Liberty // Ben and the Bad Weather // Peter Baker
The Workshop is a little gem of a discovery underneath The Star in Shoreditch. With an underground hacienda feel, this venue is the perfect setting for bands cutting their teeth on the scene, or those wanting to get up close and personal with the crowd.
OCTRAIN
https://hotvox.co.uk/artist/octrain/
OCTRAIN are a three-piece rock band from in and around London, UK.If you like epic solos, tasty riffs and a groove you can move to, you sould perhaps check them out.
ADMISSIONS
https://hotvox.co.uk/artist/admissions/ From Chelmsford, Essex comes ADMISSIONS.
ADMISSIONS are a group of school friends with the knack of releasing enthusisatic modern rock music. Coupled with an animated live performance, ADMISSIONS know how to take their live performance to its limits.
ADMISSIONS released their debut EP 'Noise Complaints Before Nine' in 2022. Their Latest single 'Faces' is a electrifying rock anthem that belts out the tale of donning an arsenal of masks and alter egos with each electrifying performance, creating an audacious and thrilling stage persona.
'Faces' was also championed by BBC Radio 1.
Liberty
https://hotvox.co.uk/artist/liberty/Liberty is an Alt-Rock band from Guildford. Writing about themes of isolation, relationships, desire and coming of age – their big sound provides a backdrop to life's intimate moments. Blending influences such as Green Day, The Pretty Reckless and Stereophonics – riff-driven guitars are layered with honest lyrics to create a world which appeals to old-school and gen-z listeners alike.
They have recently played sold-out headline shows in London, Brighton and Guildford, and are swiftly gaining a reputation as a band to experience live. With energetic audience interaction and anthemic songs, Liberty believe in the power of crowds coming together to experience live music.
Ben and the Bad Weather
https://hotvox.co.uk/artist/ben-and-the-bad-weather/Introducing Ben And the Bad Weather: a dynamic rock band form London that's steadily making their mark on the music scene. At the core of this dynamic group is singer-songwriter Ben Herbertson, who had been captivating audiences on the London acoustic circuit for years.
Realising the potential to elevate his music to new heights, Ben enlisted the talents of his brother George Herbertson, a phenomenal drummer with an innate sense of rhythm, and the versatile bassist Nathan Scoffield. Together, they have breathed new life into Ben's songs.
As they continue to hone their unique sound and grow their fan base, Ben And the Bad Weather are eager to share their music with a wider audience.
Peter Baker
https://hotvox.co.uk/artist/peter-baker/Peter Baker writes, sings, performs, produces and films all of his own original material. Writing about his own experiences plus occasionally adding fictional elements leaving the listener guessing. Born, bred and still living in the London area, he has been committed to adding his own ingredients to the musical cooking pot of the town that he loves.
He also plays live gigs with two other great musicians: the amazing Will Jackson, who is swapping between Bass Guitar and hauntingly beautiful Lead Guitar for some of the slower ones; also playing with Peter is Kainey Kates, who plays smooth jazzy  Drums and also accompanies him with beautiful backing vocals.
MINIMUM AGE: Strictly 18+ (I.D may be required)
STUDENT DEALS: NHS Staff and music students (ACM, BIMM and ICMP) can buy tickets on the door for £7. Valid NHS or student photo ID required and entry is subject to capacity.