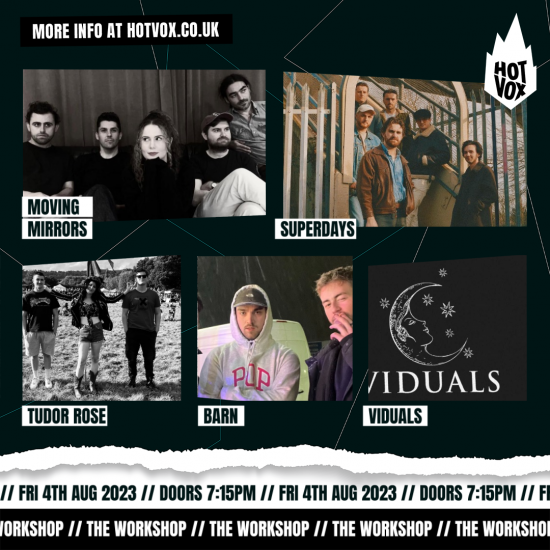 HOT VOX Presents: moving mirrors // Superdays // Viduals // BARN // Tudor Rose
HOT VOX Presents:  moving mirrors // Superdays // Viduals // BARN // Tudor Rose
The Workshop is a little gem of a discovery underneath The Star in Shoreditch. With an underground hacienda feel, the venue is the perfect setting for bands cutting their teeth on the scene, or those wanting to get up close and personal with the crowd.
moving mirrors
https://hotvox.co.uk/artist/moving-mirrors/
London's moving mirrors formed in summer 2022. Their alternative sound explores a myriad of tastes ranging from art-rock, pop and world influences, to name a few, weaving together an explosive tapestry of hypnotic riffs, flowing beats and lyrical tales to intrigue listeners.
Having begun to cut their teeth live in south London over the last few months, the band's first self-releases 'Wilder State of Mind' and 'Borderline' were released on 29 March 2023.
The band's next track 'Second Hand Lover', already a fans' favourite live, lands on 7 July 2023 with an EP to follow later this summer.
Superdays
https://hotvox.co.uk/artist/superdays/6 piece Indie Alternative band from Kent. Superdays bring you their debut single 'So Many Ways'. You can expect a lot more from these guys in 2023
Viduals
https://hotvox.co.uk/artist/viduals-2/Energetic, Dedicated and devoted, Viduals are a four piece band based in Swindon, UK. Since forming in 2018, the band have played a variety of headline shows throughout the UK, with highlights including gigs alongside huge up and coming artists such as: James and the Cold gun, Salem, Stay Lunar and All Ears Avow.
Hot off the release of their debut EP, 'The Wayside', The 4 piece have played around the UK in an attempt to spread their unique sound that blends the power and veracity of alternative rock with heartfelt lyricism and jangly guitar riffs often found in indie music.
This electric quartet are not to be overlooked.
BARN
https://hotvox.co.uk/artist/barn/Straight outta the wild…
Cuttin' their teeth on the London scene, the south-east 3 piece are bringing guitar music back.
With heavy grooves, surfy rythms and grungy vocals, the BARN is moving
Tudor Rose
https://hotvox.co.uk/artist/tudor-rose/Tudor Rose are a Alternative Punk Rock three piece band from Kent. Performing at local Kent venues, festivals and around London. The band hope to start releasing there orginal music in the upcoming weeks. On stage Tudor Rose produce an upbeat and lively atmosphere, performing catchy originals and the occassional cover.