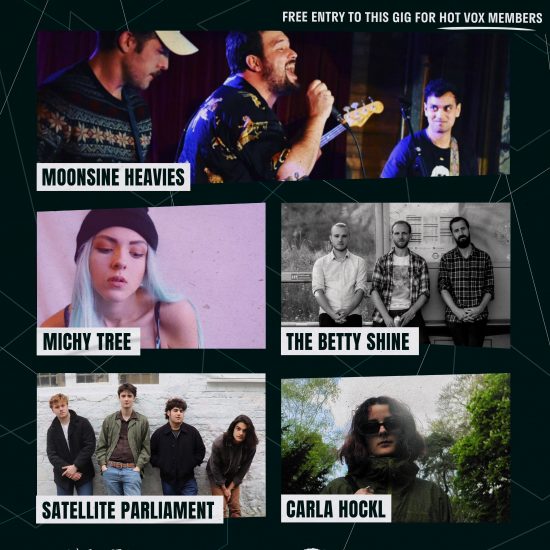 HOT VOX Presents: Moonshine Heavies // Michy Tree // The Betty Shine // Satellite Parliament // Carla Hockl
Fri 13th May
7:00 pm - 11:00 pm
The Workshop is a little gem of a discovery underneath the Roadtrip Bar on Old Street. With an underground hacienda feel, this sweatbox venue is the perfect setting for bands cutting their teeth on the scene, or those wanting to get up close and personal with the crowd.
Moonshine Heavies
https://hotvox.co.uk/artist/moonshine-heavies/Moonshine Heavies are a contemporary blues group breaking away from the established tradition. Storytelling, surreal tongue twisters and lyrics that conjure visual imagery help shape the band's sound.
Given the frontman's art school background, it is not surprising that the group portray a certain ease experimenting with several styles and genres, wonderfully packaged into songs that are unafraid to take the unconventional path and bring the listener on a winding journey with them.
If you like killer vocals, loud guitars, big melodies, and even bigger attitude, then you have to see this band… Just don't be surprised if you feel a tug at your heart strings as well as a kick in the face!
Michy Tree
https://hotvox.co.uk/artist/michy-tree/Michy Tree is an indie solo artist from Berkshire.
The Betty Shine
https://hotvox.co.uk/artist/the-betty-shine/The Betty Shine draw on an eclectic range of new-wave, post punk, rock revival, alt indie and hardcore influences. They create off kilter, noisy, tuneful punk rock that possibly defies definition.
Tight, angular, intricately arrangements merge with noise-rock and pop sensibility to create music that is dreamlike abrasive, soulful and loud.
Satellite Parliament
https://hotvox.co.uk/artist/satellite-parliament/Inspired by the uk indie scene in the 2000s with bands such as The Wombats and The Libertines, Satellite Parliament was born in April 2021 as a materialised lockdown idea.
Having only met only previously met on zoom calls while studying together, we got to know each other both personally and musically in the rehearsal room. After spending a few months writing a catalogue of songs we went on to play any gig we could get to raise the funds to get to the studio, which we eventually managed resulting in our debut single 'Seaside Soliloquy'.
Our live shows are known to be a classic indie show with high energy, sticky floors and sweaty bar basements.
Carla Hockl
https://hotvox.co.uk/artist/carla-hockl/Carla Hockl is a 21-year old London based artist from Charleston, South Carolina. Through a blend of alt-country, folk, and dream pop, open tunings and lap steel guitar licks she brings a personal sense of southern nostalgia to modern songwriting.