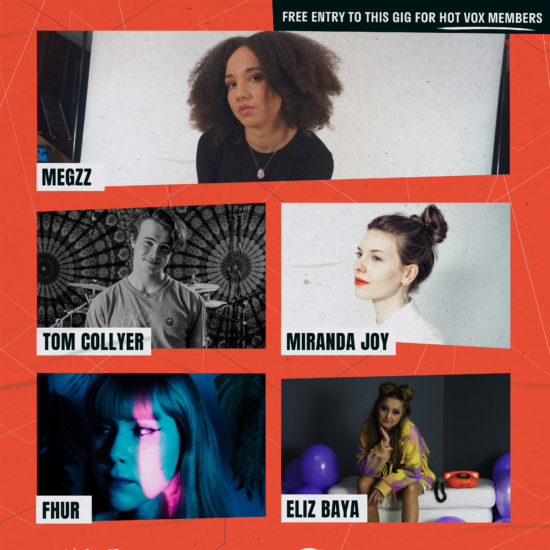 HOT VOX Presents: Megzz // Tom Collyer // FHUR // Eliz Baya
Fri 5th Nov
7:00 pm - 11:00 pm
HOT VOX Presents: Megzz // Tom Collyer // FHUR // Eliz Baya
The Workshop is a little gem of a discovery underneath the Roadtrip Bar on Old Street. With an underground hacienda feel, this sweatbox venue is the perfect setting for bands cutting their teeth on the scene, or those wanting to get up close and personal with the crowd.
Megzz

Megzz is an RnB singer-songwriter whose passion for writing and music drives her to produce honest, introspective and empowering songs that many can relate to.
Socials: @official_megzz
Spotify: https://open.spotify.com/artist/7FC71BJWo1wfNUOFRBXnZc?si=tK-U5pTMRfSgQ8bo8JKmAA
Tom Collyer

A guy and his friends playing some music. Come listen to us xoxo
Miranda Joy
Miranda Joy is a UK based singer/songwriter who performs emotionally charged songs with a powerful, soulful voice and piano accompaniment. Her previous slower and more melancholic releases are being joined by songs with a much greater range of moods and genres as exemplified by her brand new single 'Up In Flames'.
She's been writing songs since her early teens and has been performing at various venues, festivals and events including The Vortex Jazz club, Green Note, The Old Vic, Rye international Jazz and Blues festival, Great Escape festival, Nasty Women UK, Soul Stripped Sessions and others.
She previously released two singles along with accompanying music videos in 2019, 'London' and 'The Fall', which she performed live on Soho Radio. In 2017, The Fall was featured on the credits for the Super Bowl highlights show on BBC1. She has co-written music for synch libraries that have been used and aired worldwide across TV and radio.
FHUR

FHUR is a dark alternative pop based in London. Her songs blend heavy synths and deep sultry vocals, that create atmospheres of longing, lingering between the real world and the world that only exists in the mind.
She's played various live shows across London while working on her debut EP. The first single officialy launching the project will be "We Just Wanna Have Fun", out November 5th.
Find FHUR on instagram: https://www.instagram.com/iamfhur/
Listen on Soundcloud: https://soundcloud.com/iamfhur
Eliz Baya

Pop – dance singer, song – writer, international: Eliz Baya is an emerging artist using her voice to tell stories while making people dance. A female solo artist influenced by her acting background who expresses herself through her lyrics and music.
Eliz Baya is of a Slovakian descent with many years based in London that influenced her multicultural thinking and shaped her voice while playing live and touring internationally. Her new journey is undoubtedly influenced by modern era pop music with influences from Scandinavian and UK pop artists.
Her Debut EP – New Life came out in February 2021.