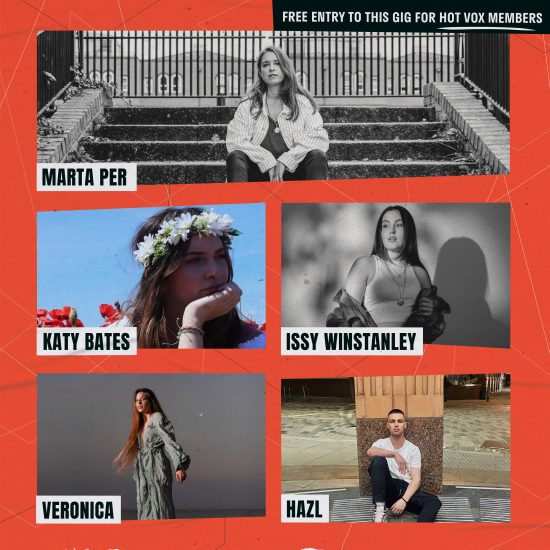 HOT VOX Presents: Marta Per // Katy Bates // Issy Winstanley // Veronica // Hazl
Fri 3rd Jun
7:00 pm - 11:00 pm
HOT VOX Presents: Marta Per // Katy Bates // Issy Winstanley // Veronica // Hazl
The Workshop is a little gem of a discovery underneath the Roadtrip Bar on Old Street. With an underground hacienda feel, this sweatbox venue is the perfect setting for bands cutting their teeth on the scene, or those wanting to get up close and personal with the crowd.
Marta Per
https://hotvox.co.uk/artist/marta/
Marta Per is a London-based, Portuguese-born artist and multi-instrumentalist. After being part of several bands, Marta is now embarking on a solo journey, drawing inspiration from pop, rock and jazz as well as her classical roots. Her lyrics, usually reflective, observational and at times filled with self-deprecating humour, take us through the motions of growing older, navigating emotions and trying to make sense of life.
Katy Bates
https://hotvox.co.uk/artist/katy-bates/
Katy Bates is a 20 year old singer-songwriter from Bournemouth. She is greatly inspired by the likes of Taylor Swift, The Lumineers, First Aid Kit. Her sound is a mellow blend of folk, country, and pop.
So far, her biggest achievement has been performing at The Bluebird Cafe in Nashville and being featured on ABBA's Instagram for her cover of 'Voulez-Vous'.
When she's not performing or writing songs, she likes to pottery paint, make jewellery and swim in the ocean in her true mermaid form.
Issy Winstanley
https://hotvox.co.uk/artist/issy-winstanley/Hailing from Cheltenham, singer-songwriter Issy Winstanley is a flourishing name on the music scene. Crafting a blueprint of catchy melodies and featherlight vocals, Issy combines carefully crafted lyrics with acoustically-driven pop production.  Documenting her experiences from love, loss, laughter and everything in between, her performances never fail to engage a crowd. With two BBC Introducing In The West 'Track of the Week' features and performances at legendary venues such as The Sunflower Lounge and The Hare and Hounds, Issy's career continues to grow. Following a sold-out release show for her debut single, Issy's debut EP is set for summer 2022, and is certainly not one to be missed.
Veronica
https://hotvox.co.uk/artist/veronica/Veronica is a UK based Singer-Songwriter. She released her first three singles in 2020 and she's eager to release more. She writes about emotional health and spirituality in a quite fresh and light way as a reflection of her deep but funny personality.
Her first instrument is her voice. She loves harmonising herself and creating many vocals layers. She also plays the piano, the guitar and the ukulele and she's starting to produce her own songs to gain more creative control and rebel against the male dominated industry.
Hazl
https://hotvox.co.uk/artist/hazl/
Born in the UK. Hazl – a young, up and coming R&B Trap vocalist. With a love for R&B and Hip-Hop growing up, Hazl took influences from many great artists such as SZA, Drake, Roddy Ricch and Bryson Tiller. Throughout the years Hazl's musical journey progressed. He divulged in many fields, studying singing, piano and guitar. After years of honing his craft, Hazl is ready to share his emotional blend of Hip-Hop and Trapsoul.He is currently at the start of a long campaign with releases lined up for spring and summer, and intentions to end Summer '22 with a climactic project. With his stylistic vocals and cheeky personality, Hazl is anticipated to be one of the major breakthroughs of 2022.