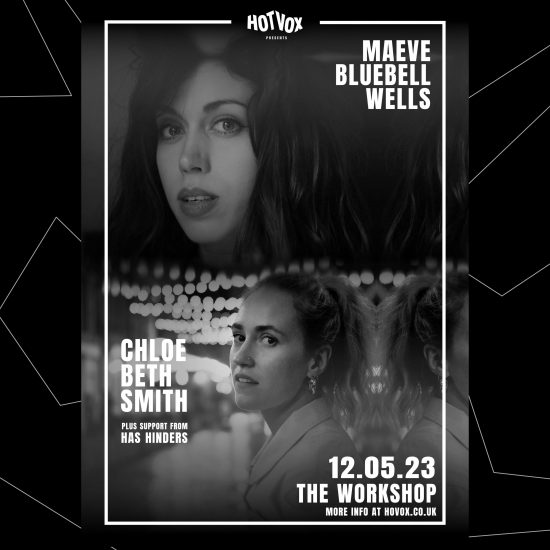 HOT VOX Presents: MAEVE BLUEBELL WELLS // Chloe Beth Smith // Has Hinders
Fri 12th May
7:00 pm - 11:00 pm
HOT VOX Presents:  MAEVE BLUEBELL WELLS // Chloe Beth Smith // Has Hinders
The Workshop is a little gem of a discovery underneath The Star in Shoreditch. With an underground hacienda feel, this sweatbox venue is the perfect setting for bands cutting their teeth on the scene, or those wanting to get up close and personal with the crowd.
MAEVE BLUEBELL WELLS
https://hotvox.co.uk/artist/maeve/
Cymraes, songs touch of ancient folk with lifting electronic dirt. Maeve Bluebell Wells grew up on Wales' wild west coast. Her roots to home – gwreiddiau i gartref have been the nectar which has nourished her work so far. 'High Priestess' was the artist's debut and collaboration with Grammy award winner, Steve Levine. The work, inspired by The Mabinogion, fairy tales & folklore takes listeners on a sweeping journey through time immemorial and the indelible threads that connect humanity together. You can listen to 'CYSGOD', her most recent release on all streaming platforms from the 13th of March.
Chloe Beth Smith
https://hotvox.co.uk/artist/chloe-bell-smith/Merging a love of brooding synth textures with her classical background, Chloe Beth Smith creates a distinct musical style where ethereal vocals soar above percussive beats, blending harsh electronics with warm acoustic tones.
Following tours and recording with artists including Roxy Music, Skinny Pelembe, Art School Girlfriend and Rozzi, Chloe Beth Smith will be debuting music from her upcoming Wake Vortex EP, a collaboration with string player and vocalist Marina Moore whom she met whilst touring with Bryan Ferry, as well as her own solo work.
Has Hinders
https://hotvox.co.uk/artist/has-hinders/Has Hinders are an enigmatic duo from Liverpool. Their poetic, gifted lyrics combined with intricate, expert guitar playing draws the audience into a hypnotic, bluesy vortex.