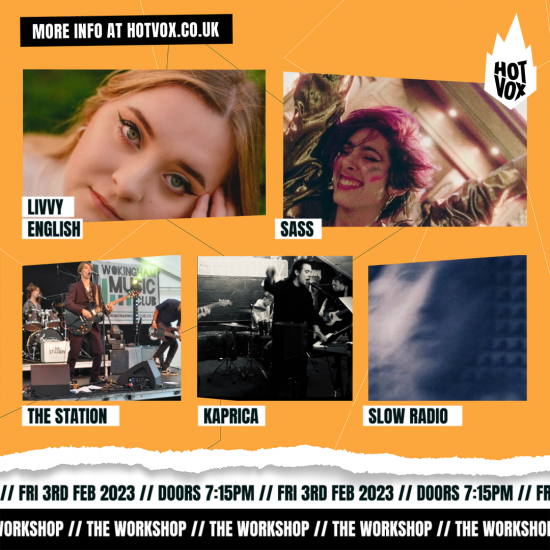 HOT VOX Presents: Livvy English // SASS // Slow Radio // Kaprica // The Station
Fri 3rd Feb
7:00 pm - 11:00 pm
HOT VOX Presents:  Livvy English // SASS // Slow Radio // Kaprica // The Station
The Workshop is a little gem of a discovery underneath the Roadtrip Bar on Old Street. With an underground hacienda feel, this sweatbox venue is the perfect setting for bands cutting their teeth on the scene, or those wanting to get up close and personal with the crowd.
Livvy English
https://hotvox.co.uk/artist/livvy-english/
Livvy English is a 23 year old singer and songwriter from Brighton. Having grown up in a musical family, performing her first solo gig at just 12 years old, Livvy started writing songs in her mid-teens, and graduated with a first class degree from BIMM Brighton in 2022. Fresh from a string of headline and main support gigs in London and Brighton, Livvy and her 4-piece band bring an emotive blend of pop, rock and soul in a set of self-penned songs full of energy and feel that come to life through catchy melodies, driven beats, tasty guitar licks, and powerful vocals.
SASS
https://hotvox.co.uk/artist/sass/SASS is a vocalist and songwriter. Despite being born and raised in England, she has had heavy influence in her writing and melodies from the art of her ancestry and the dramatic culture in which she was raised.
Incorporated with a love for blues and rock as well as jazz vocal influences, SASS is cultivating those themes for her writing too, as well as taking a deeper look into mental health and the influence that has brought upon her work.
Acoustic recordings can be found through the SoundCloud and Instagram links below:
https://www.instagram.com/sasstagrram/
Slow Radio
https://hotvox.co.uk/artist/slow-radio/Named after fast radio bursts, flashes of radio waves from distant galaxies, Slow Radio is a 5-piece musical outfit that write abstract protest songs under a London Overground track in Mile End. Just a few weeks before the first Covid-19 lockdown, the band began remixing and updating 10 years worth of songs guitarist Jake Stow, drummer Sam Bartrop and singer/sampler operator Jack Bartrop had written together and apart while studying and working in Brighton, Madrid and Amsterdam. Since settling in East London, Milo Cave was conscripted to provide much needed bass and guitarist Matt Hocine politely asked to join after hearing the group through the walls of their practice space.
Kaprica
https://hotvox.co.uk/artist/kaprica/The synth-laced alternative London band Kaprica have just one mission statement… to create infectious songs with progressive musicianship. A melting pot of the sounds of the last few decades, crashing into the 21st century.
The Station
https://hotvox.co.uk/artist/the-station/The Station are a three-piece indie rock'n'roll band, made up of songwriting brothers Louie and Dylan Morris and wildman Josh Hensby. Known for their lively shows with a tendency to switch instruments mid-set, their music has been likened to a 'light at the end of a tunnel' with recent single Rainbow Generation a nostalgic anthem for a better future.
MINIMUM AGE: Strictly 18+ (I.D may be required)
STUDENT DEALS: NHS Staff and music students (ACM, BIMM and ICMP) can buy tickets on the door for £7. Valid NHS or student photo ID required and entry is subject to capacity.
VENUE ADDRESS:  243, Old Street, London, EC1V 9EY
VENUE PHONE:  020 7253 6787