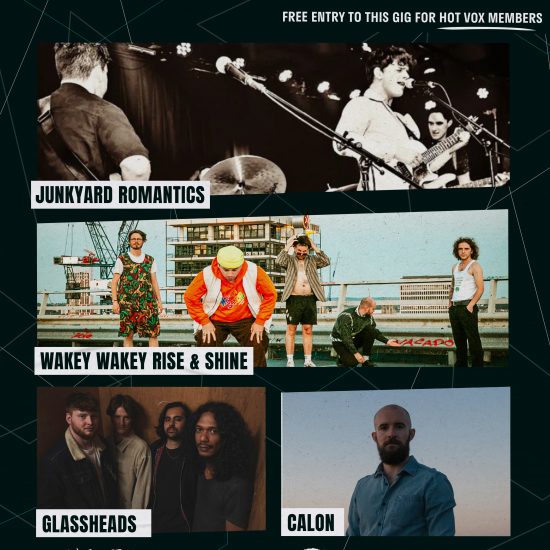 HOT VOX Presents // Junkyard Romantics // Wakey Wakey Rise and Shine // Glassheads // Calon
Fri 12th Aug
7:00 pm - 11:00 pm
HOT VOX Presents:  Junkyard Romantics // Wakey Wakey Rise & Shine // Glassheads // Calon
The Workshop is a little gem of a discovery underneath the Roadtrip Bar on Old Street. With an underground hacienda feel, this sweatbox venue is the perfect setting for bands cutting their teeth on the scene, or those wanting to get up close and personal with the crowd.
Junkyard Romantics
https://hotvox.co.uk/artist/junkyard-romantics/
Junkyard Romantics are a four-piece indie band made up of Gaz Price, Jake Leighton, Joey Rattigan and Rhys Osbourne. The band bring eclectic influences together to create a psychedelia driven pop sound, with twisting riffs and undeniable choruses.
The four-piece have kicked off 2022 playing multiple headline shows, at venues including the Water Rats, and are currently working on their debut EP.
Wakey Wakey Rise & Shine
https://hotvox.co.uk/artist/wakey-wakey-rise-shine/Wakey Wakey Rise & Shine create a psychedelic sonic landscape attached with facetious personalities and lyricism. 2022 is set to be an important year for the band, having gigged relentlessly since lockdown measures were lifted in 2021, the band are eager to keep the momentum going and to develop their reputation as a must-see band with new music set to be released later in the year.
Their most recent singles have seen support from BBC Radio 6, BBC Introducing in the West and Amazing Radio with Tom Robinson including latest single 'Overtime' in his BBC Introducing Mixtape and describing the single as "an irresistible slow grower!"
Glassheads
https://hotvox.co.uk/artist/glassheads/Glassheads are a Leeds based up and coming rock band composed of Noah Clare, Connor Ludnow, Layth Ibrahim and Tam Nusane.
Drawing inspiration from the pop/rock bands of their youth such as Thirty-Seconds To Mars , Radiohead and The Killers, Glassheads have carved out an inherently new sound. Hard-hitting anthemic choruses and loud guitars fill every venue they play, always leaving their audiences wanting more.
Their debut single  "White Flag" (which is out now) was released with Doodlebox Records Ltd.
"This is a band to watch out for in the future and can only get better and better." (Steve Millington of 10CC)
Calon
https://hotvox.co.uk/artist/calon/Adam Lewis aka "Calon" is a Swansea-born singer songwriter based in South-East London.
Calon's hairpin guitar melodies & candid lyrics transport audiences to personal snapshots; from ex-lovers and accidental philosophies, to existential late-night London bus journeys, Calon invites you to the birthplace of each song.
With a sound echoing the likes of Jeff Buckley, Elliot Smith & Radiohead, Calon's Jazz chords and Bossa Nova rhythms give a folky and familiar feel.
This year Calon is recording his concept EP entitled "Matryoshka" and playing various gigs in London including The Troubadour.