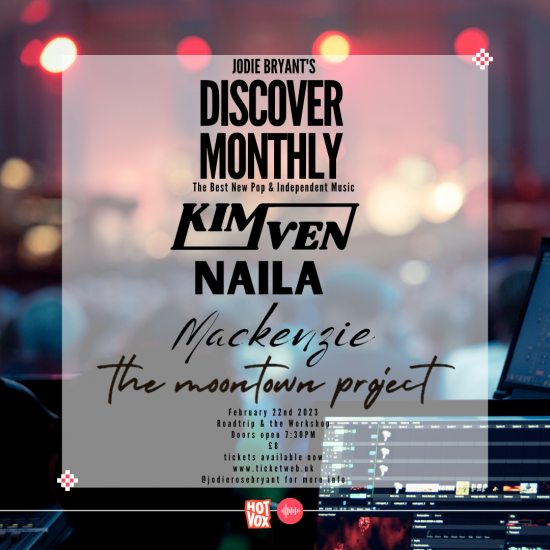 HOT VOX Presents: Jodie Bryant's Discover Monthly
Wed 22nd Feb
7:00 pm - 11:00 pm
HOT VOX Presents: Jodie Bryant's Discover Monthly ft. : The Moontown Project // Mackenzie // NAILA // Kim Ven
Jodie Bryant hosts 'Discover Monthly' which takes a look at the best new music across the globe every month. With previous interviews including Arlo Parks, Matilda Mann, HYYTS and Priya Ragu … you know we have good taste!
Jodie is curating the 'Discover Monthly Live Showcase' in partnership with Hot Vox and we are bringing the show to real life with some of the best undiscovered talent performing live at Roadtrip & The Workshop on Old Street – Wednesday February 22nd. We are excited to present to you a strong lineup consisting of Kim Ven, Naila, Mackenzie and The Moontown Project!
The gig will get you ahead of the game and put these artists on your radar before they're on everyone else's – so make sure you come down to hear some of the hotly tipped artists for 2023! Do not miss!
Tune in to Jodie Bryant's Discover Monthly Podcast in association with Hot Vox for exclusive interviews, new releases, breaking acts and to discover your new favourite artist. www.discovermonthly.co.uk
The Moontown Project

The Moontown Project are an electronic/indie-soul group from Kingston, South West London. The group release music under the close-knit, New Malden based label, Stogey Records. They have received wholly positive feedback from both listeners and critics alike. With BBC Introducing Track of the Week, appearances on BBC Introducing London, BBC Introducing North East and Yorkshire, and of course BBC Surrey and Sussex. multiple spins on Amazing Radio, this only marks the start for the lads.
Cross-genre experimentation is key to the sounds of the Moontown Project, looking at bands like Gorillaz and MGMT who merge traditional indie song structures with synths, basses and hip-hop/ Neo soul sections.
Mackenzie

Mackenzie is an emerging alt-pop artist from Reading, taking inspiration from the likes of Avril Lavigne, Taylor Swift and Miley Cyrus. She has had regular support from both BBC Introducing Solent and Berkshire who named her recent release 'After The Haze' Track Of The Week. Her next single 'I Hate July' recorded at RYP Recordings with Micheal Smith (Wolf Alice, Honey Lung, Weird Milk) is the self-proclaimed scream in the car anthem of 2023 and is scheduled for release on 26th January.
NAILA

Naila is a burning talent amongst the London music scene, showcasing what it is to be a pop artist and singer/songwriter. Naila has a proven affinity for writing infectious hooks which are complemented by soothing yet un-contained vocals.
Naila has all the components for writing songs that have the potential to connect with huge audiences, and when it comes to performing those songs, Naila is as close as it gets to a perfect live vocal. Bursting onto the scene with her debut single "Nights like These" back in 2020, Naila has landed multiple features on Spotify "Fresh Finds", performed on esteemed stages such as Hyde Park BST as well as The Ned
Hotel, London.
Kim Ven

Arriving to a locked-down UK in 2020, Australia-born Kim Ven makes warm indie pop music, flavoured with folk and americana. Kim is an uplifting and empathic songwriter, writing about self-discovery and the impermanence of youth, influenced by Maggie Rogers, Leon Bridges and Lana Del Rey. Ahead of the release of Kim Ven's debut EP in early 2023, single 'Cool Car' was featured on BBC Introducing London by Jess Iszatt in December 2022. 'Cool Car' and August 2022's 'Younger' have received airplay from both Shell Zenner and Charlie Ashcroft on Amazing Radio, with 'Cool Car' featuring in their Round-up of November 2022.