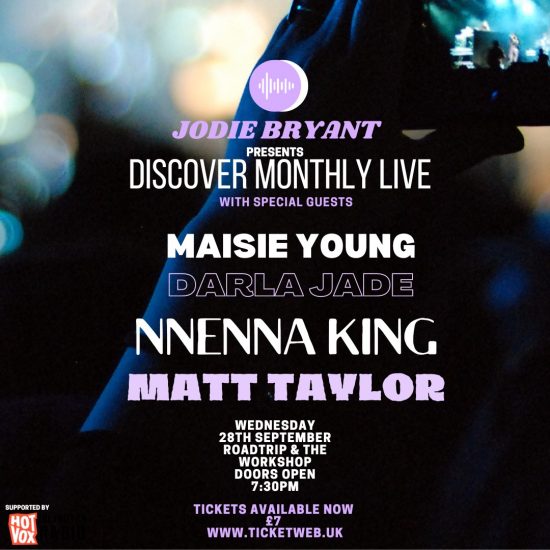 HOT VOX Presents: Jodie Bryant's Discover Monthly ft.: Matt Taylor // Nnena King // Darla Jade // Maisie Young
Wed 28th Sep
7:30 pm - 11:00 pm
Jodie Bryant hosts 'Discover Monthly' which takes a look at the best new music across the globe every month. With previous interviews including Arlo Parks, Matilda Mann, HYYTS and Priya Ragu … you know we have good taste!
Jodie is curating the 'Discover Monthly Live Showcase' in partnership with Hot Vox and we are bringing the show to real life with some of the best undiscovered talent performing live at Roadtrip & The Workshop on Old Street – Wednesday September 28th. We are excited to present to you the best in emerging talent! This month we're featuring Matt Taylor, Nnena King, Darla Jade & Maisie Young!
The gig will get you ahead of the game and put these artists on your radar before they're on everyone else's – so make sure you come down to hear some of the hotly tipped artists for 2022! Do not miss!
Tune into to Jodie Bryant's Discover Monthly Podcast in association with Hot Vox for exclusive interviews, new releases, breaking acts and to discover your new favourite artist. www.discovermonthly.co.uk
Matt Taylor
https://hotvox.co.uk/artist/matt-taylor/
Hailing from Dublin, Matt Taylor is an incredible pop artist to get to know! Production-wise, MATT pays homage to bubblegum pop legends such as SOPHIE and A.G. Cook. His lyrics and melodies take inspo from Taylor Swift and Lorde. His latest EP 'April 13th' is an incredible blend of impressive songwriting and well executed production.
Nnena King
https://hotvox.co.uk/artist/nnena-king/
Nnenna King is a 24 year old artist hailing for East London. She's got a voice older than her years – which is widely praised. King began singing at 6 years old and after graduating from the BRIT school is continuing to impress with her talent. Today her music draws inspiration from the likes of Lauryn Hill, Amy Winehouse and Stevie Wonder.
Darla Jade
https://hotvox.co.uk/artist/darla-jade/
Darla Jade is all about electro pop and has already been named as one of BBC Introducing Stoke's 'Big in 2022' artists. Her singles and featured songs have been played on national radio stations including KISS, Capital Dance and BBC Radio 1. She is multi-talented and also writes songs for other artists who have taken note of her impressive skill set.
Maisie Young
https://hotvox.co.uk/artist/maisie-young/Maisie Young is an upcoming artist from the UK and writes soulful R&B inspired music. She's had her songs played on BBC Introducing Sussex and Surrey multiple times and is one to watch for 2022!