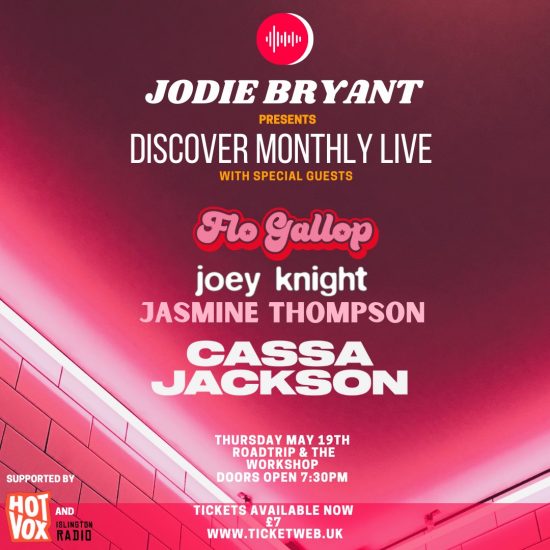 HOT VOX Presents: Jodie Bryant's Discover Monthly ft: Cassa Jackson // Jasmine Thompson // Joey Knight // Flo Gallop
Thu 19th May
7:00 pm - 11:00 pm
Jodie Bryant hosts 'Discover Monthly' which takes a look at the best new music across the globe every month. With previous interviews including Arlo Parks, Matilda Mann, HYYTS and Priya Ragu … you know we have good taste!
Jodie is curating the 'Discover Monthly Live Showcase' in partnership with Hot Vox and we are bringing the show to real life with some of the best undiscovered talent performing live at Roadtrip & The Workshop on Old Street – Thursday 19th May. We are excited to present to you the best in emerging talent! This month we're featuring Cassa Jackson, Jasmine Thompson, Joey Knight and Flo Gallop.
The gig will get you ahead of the game and put these artists on your radar before they're on everyone else's – so make sure you come down to hear some of the hotly tipped artists for 2022! Do not miss!
Tune into to Jodie Bryant's Discover Monthly Podcast in association with Hot Vox and Islington Radio for exclusive interviews, new releases, breaking acts and to discover your new favourite artist. www.discovermonthly.co.uk
Cassa Jackson
https://hotvox.co.uk/artist/cassa-jackson-2/
Vocal powerhouse Cassa Jackson, is your go-to singer-songwriter for relatable, sassy songs about relationships. Her recent success led to her supporting JLS on their Beat Again reunion tour at major arenas all over the UK, including 4 nights at the 02 arena. Cassa was nominated for an iHeart Radio Award for 'TikTok Songwriter of the Year'. This was just before her first ever SOLD OUT Headline Show at the 'Omeara' in London. Cassa's songs are the perfect remedy for a breakup and Cassa has just released her new single 'Sophie'. Cassa teased this new song on the iHeart Radio Tik Tok channel for her TikTok takeover
Jasmine Thompson
https://hotvox.co.uk/artist/jasmine-thompson/ Now 21, the London-based singer-songwriter has enjoyed a musical growth that's taken her from viral covers to her own WONDERLAND and COLOUR EPs. Thompson kicked off summer 2021 with the acclaimed single "already there," which was soon followed by "after goodbye."  Most recently, Jasmine joined forces with multi-platinum-selling, chart-topping UK singer-songwriter Calum Scott for the heartfelt new single "love is just a word," joined by an official music video directed by Jackson Ducasse (Dua Lipa, New Order). Since her debut, Thompson has become even more beloved, earning more than 3B global streams and over 5M monthly Spotify listeners worldwide.
Joey Knight
https://hotvox.co.uk/artist/joey-knight/Joey Knight is an up and coming indie pop artist from the Nottingham. His debut EP 'how to be happy' dropped earlier this year and it has six tracks about feelings, relationships, breakups and confusing emotions and is super relatable and a beautiful body of work.
With a creative and sincere approach to music-making, Joey has already found himself collaborating with a close-knit community of other emerging talents such as Issey Cross, Tayo Sound, Jalle and Sfven. All of this proving Joey Knight is a name to get on your radar!
Flo Gallop
https://hotvox.co.uk/artist/flo-gallop/You already know Flo Gallop. You've already heard her voice, it's a pitch-perfect, beautiful, arm-around-the-shoulders version of the one in your head. Flo is the voice we all need, She's the beat behind our breakdowns and the word-perfect poetry of our bounce-back pick-ups.
South-east London born and bred, Flo was raised around music, her dad made songwriting feel like breathing. Without it she would choke. So, she sat, scribbling words, diarising an everyday life through the musicality and soul of a natural artist that would eventually emerge, fully formed, as a friend in your ears.