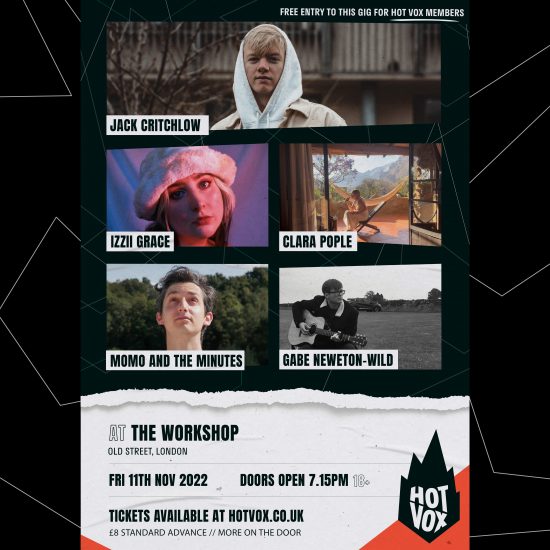 HOT VOX Presents: Jack Critchlow // Izzii Grace // Clara Pople // Momo and the Minutes // Gabe Newton-Wild
Tue 11th Oct
7:00 pm - 11:00 pm
HOT VOX Presents:  Jack Critchlow // Izzii Grace // Clara Pople // Momo and the Minutes // Gabe Newton-Wild
The Workshop is a little gem of a discovery underneath the Roadtrip Bar on Old Street. With an underground hacienda feel, this sweatbox venue is the perfect setting for bands cutting their teeth on the scene, or those wanting to get up close and personal with the crowd.
Jack Critchlow
https://hotvox.co.uk/artist/jack-critchlow/
Jack Critchlow is a 19 year old pop singer-songwriter/producer from North Yorkshire, but now based in Manchester. His music offers a unique style of pop, combining other genres like funk, disco and R&B. Jack creates his unique sound through the support of his band, consiting of fellow students at the Royal Northern College of Music. They can gurantee an exciting, upbeat show with great music and feel good times! Jack began writing aged 10 and gigging aged 12, so has a lot of experience despite only being 19. He has played across many well respected venues in Manchester, and is now beginning to play around London aswell. Jack, and his band, are very excited to bring their show to you!
Izzii Grace
https://hotvox.co.uk/artist/izzii-grace/
Izzii Grace is a queer Indie Pop Artist from London, intertwining her love of RnB vocals, Electropop synth lines and floaty guitar parts to create her sound. Over the past two years, Izzii Grace has been featured on BBC Introducing, Amazing Radio, Interviewed on BBc Upload, Radio Extra and on Future Hits Radio. Alongside this she's played shows with HotVox, Breaking Sounds, Sucker Presents, Ymx, has headlined the Roadtrip & Workshop in London alongside her band for Live a Little Louder and has played big festivals including Isle of Wight Festival.
She creates songs hoping to help people feel less alone as she takes inspiration from her own personal experiences, journey with mental health and well, her wildly chaotic love life.
She's delved into music production more and formed a sound that felt so natural. Her Style Takes influences from artists such a Oh Wonder, Jorja Smith, Call Me Loop, Passionpit and Josie Man.
Clara Pople
https://hotvox.co.uk/artist/clara-pople/Clara Pople is a Cumbrian based soul/trip hop looper with the lungs of a deep-sea diver, the heart of a Barbary Lion and the voice of an English choir girl. Using a vocal processor to create densely layered harmonic backing and drawing on her choral and gospel background, Clara sings to make grown men weep.
Clara has been performing in London since September 2021 and has already played at prestigious venues such as The Sebright Arms, The Windmill and Bush Hall Terrace.
Momo and the Minutes
https://hotvox.co.uk/artist/momo-and-the-minutes/Originally the solo venture of composer Sam Dudley, MATM started life as a pet project of demos inspired by early 2000s guitar pop from Japan. The demos began to take shape as a collection of songs exploring the highs and lows of Dudley's relationships during the pandemic, eventually becoming the tracklist to the debut EP Youth on Your Side released early 2022.
Since the EP release Dudley has been playing the London open mic scene with band mates Aletia Neilly (backing vox/guitar) and Josh Phillips (bass/backing vox). The band have started their run of shows for the autumn while they plan to head into the studio later in the year for the first time as a collective, to write a follow-up EP.
Gabe Newton-Wild
https://hotvox.co.uk/artist/gabe-newton-wild/Gabe Newton-Wild is a multi-instrumentalist singer/songwriter, providing live music and entertaining performances through popular acoustic covers and originals. Following the successful lauch of his first EP 'Home Grown Resonance', he wants to bring his energetic and powerful folk rock to a live audience.