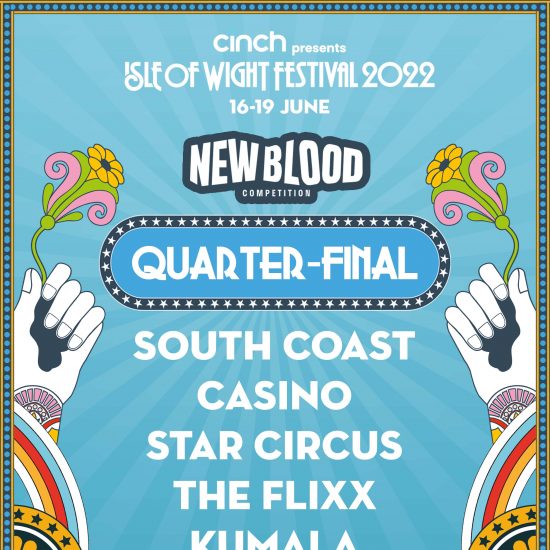 HOT VOX Presents: ISLE OF WIGHT FESTIVAL: New Blood Competition Quarter-Final
Sat 12th Mar
7:00 pm - 11:00 pm
HOT VOX Presents:  ISLE OF WIGHT FESTIVAL: New Blood Competition Quarter-Final: 12th March
Out of the thousands of hopefuls that entered the Isle of Wight Festival New Blood Competition, only a handful now remain in the Quarter-Finals. These artists are some of the most exciting and promising acts on the scene and will all be competing for a coveted slot at Isle of Wight Festival 2022!
So make your voice heard and support your favourite act for their chance to perform at Isle of Wight Festival!
QUARTER-FINALISTS:
South Coast Casino
https://hotvox.co.uk/artist/south-coast-casino/
South Coast Casino are an Indie/Rock band who started out their musical journey forming in Bournemouth having met at university. Now graduated Alex JD (Singer), Sam Over (Lead Guitar), Mikey Davis (Bass) and Dan Johnston (Drums), have now based themselves in the big city of London where they have already sold out 3 headline shows in the summer of 2021 in their new HQ setting. The band have been involved in a wide range of support shows across the south coast of England where they look to increase their exposure and continue to grow the fan base.
With influences from artists such as Sam Fender, Nothing But Thiefs and Ben Howard this is a band you're going to want to keep an eye out for.
Star Circus
https://hotvox.co.uk/artist/star-circus/Star Circus is the brainchild of Dave Winkler (Trophies Of Man, Ryan Hamilton, Annabella's Bow Wow Wow).
The current line up features Dave (vocals/guitar), Jon Crampton (guitar/vocals), Thomas Erbi (drums/vocals) and Sophie Aurelia Young (bass/vocals).
Having released the single 'Love is the Enemy' with a spectacular launch show, followed by the acclaimed videos for 'Save Your Life' and 'Just like in a Movie', the debut album is set for release in Spring 2022.
"Infectious hooks & musical sophistication abound as Star Circus channel frontman Dave Winkler's inimitable style through the best of '70s/'80s rock creating a sound both comfortingly classic and excitingly innovative."
– Ben Christo
The Flixx
https://hotvox.co.uk/artist/the-flixx/The Flixx is a new 3 piece punk/pop girlband from London. Inspired by bands like 'The Runaways', the band has been described as 'The Spice Girls' meets the 'The Slits'. Each have their own character within the band and all come with larger than life personalities. Live, they are incredibly infectious and energetic performing their very relatable and catchy songs in their very distinctive British accents. The girls go by the names of Pony (lead guitar/vocal), Trixx (bass guitar/vocal) and Red (drums/vocal). They write all their own music and were published by BMG. With great success, they have supported Marc Almond on his 'Hits and Pieces' tour playing venues like Camden's Roundhouse.
Kumala
https://hotvox.co.uk/artist/kumala/Kumala are Imi Smith, Alex Howis, Sam Frost, John Bergin and George Miller. Formed in the summer of 2020, they are a true product of the pandemic with their first batch of singles being written during lockdown.
The boys had worked together in previous projects and decided it was time for something new. Alex sold his drums at the start of the pandemic to build a home studio and together they started writing, producing and experimenting.
Towards the end of the summer they met Imi, who had been writing and recording vocals for various producers over the last few years. Her vocal style added the final ingredient to the sound, bringing both an energy and a calmness to the music.
Sacha T
https://hotvox.co.uk/artist/sacha-t/A singer/songwriter/producer from South London, Sacha T is known for her soulful, soothing tones that sit neatly on the blend of the pop, r&b/soul and acoustic sounds she produces.
Often described as therapeutic and soothing, whether through vocals, lyrics or music, Sacha T's music can only be described as inspirational. Inspired by many genres and artists ranging from John Mayer to Coldplay to Chloe x Halle to PJ Morton, you can expect to hear different styles when listening to a Sacha T record.
Sacha T is also an advocate for Mental Health and Music, taking part in discussions with organisations such as "Music for Youth", that encourage young musicians to look after their mental being.