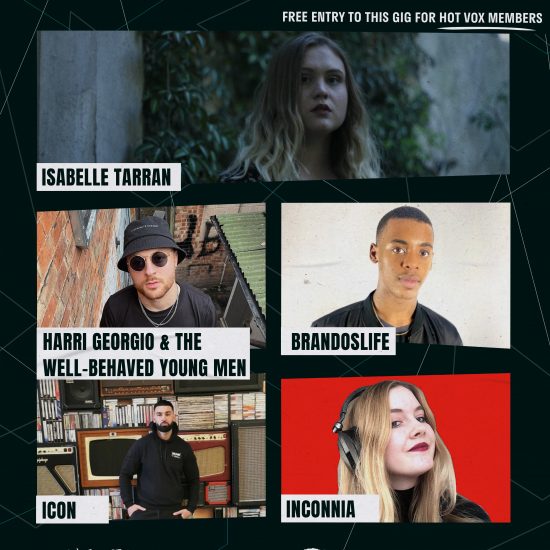 HOT VOX Presents: Isabelle Tarran // Harri Georgio & The Well-Behaved Young Men // BrandosLife // Icon // INCONNIA
Fri 6th May
7:00 pm - 11:00 pm
HOT VOX Presents:  Isabelle Tarran // Harri Georgio & The Well-Behaved Young Men // BrandosLife // Icon // INCONNIA
The Workshop is a little gem of a discovery underneath the Roadtrip Bar on Old Street. With an underground hacienda feel, this sweatbox venue is the perfect setting for bands cutting their teeth on the scene, or those wanting to get up close and personal with the crowd.
Isabelle Tarran
https://hotvox.co.uk/artist/isabelle-tarran/
Born in Salford in 2002, Isabelle spent seven years of her childhood living in New Jersey, and US east coast musical influences are clear to hear in her alt-pop sound.Always musical as a youngster, Isabelle began songwriting at age thirteen, and people were immediately taken with her strong hooks, haunting melodies and soulful sounds. Her musical influences since include Birdy, AURORA, Florence + the Machine and Ruelle.
A potent mix of arresting tunes and candid lyrics reflecting the emotional struggles experienced by many teenage girls have combined to bring her a growing fanbase. Her tracks are regular highlights on Dave Monks' BBC Introducing show on BBC Radio Merseyside.
Harri Georgio & The Well-Behaved Young Men
https://hotvox.co.uk/artist/harri-georgio-the-well-behaved-young-men/Hailing from The Midlands, UK, artist & producer Harri Georgio sits in a lane of his own. Fusing elements of Reggae, Rap & Indie Pop, Harri's sound has gained support from the likes of David Rodigan, BBC Introducing, Radio 1Xtra and Reggaeville. Performing along side his band 'The Well-Behaved Young Men' or as a solo act, his high energy shows, including a number of prominent BBC Introducing Stages, have been garnering attention on the national circuit.
BrandosLife
https://hotvox.co.uk/artist/brandoslife/BrandosLife is a twenty-one-year-old rising singer-songwriter, producer and performer from North-West London, United Kingdom. Brando's goal is simply to make music that moves people, from exploring personal experiences to music that gets you off your feet. Through his 'can't get this out of your head' melodies and pop like lyricism he truly knows how to connect to his audience; ripping off the band-aid and speaking what words cannot articulate. With a strong R&B background, Brando's music is his own unique replication of the reminiscent 90s with a modern infusion. Dabbling into a variety of genres you're never set on what you're going to get from him.
Icon
https://hotvox.co.uk/artist/icon/Shadi Lacloche, better known by his stage name Icon, is a musician from London, Singer-songwriter with an electric blend of hip-hop, rap, pop and smooth rnb flavours.
His music is so versatile he could slot into most music genres, which gives him the opportunity to perform and be heard on so many musical platforms, giving him the exposure to wider audiences, which is why his fanbase is worldwide and not just in London.
Icon has been in the studio and has cooked up some gems and one to look out for will be his new single "She Means More" that will be released on the 09.03.2022 on all digital platforms, and will be his 10th single release, so be sure to look out for that one.
INCONNIA
https://hotvox.co.uk/artist/inconnia/Hey, I'm INCONNIA.
I make art-pop songs with striking dark paint-y visuals. A folky dramatic ethereal electronic and acoustic blend when gigging as well as when recorded.
Think Björk meets London Grammar meets Grimes.
I'm a music artist. But I'm also a mental health advocate through my music. Specifically, for OCD, PTSD, and women's rights.
🌹❌⚡️🎻