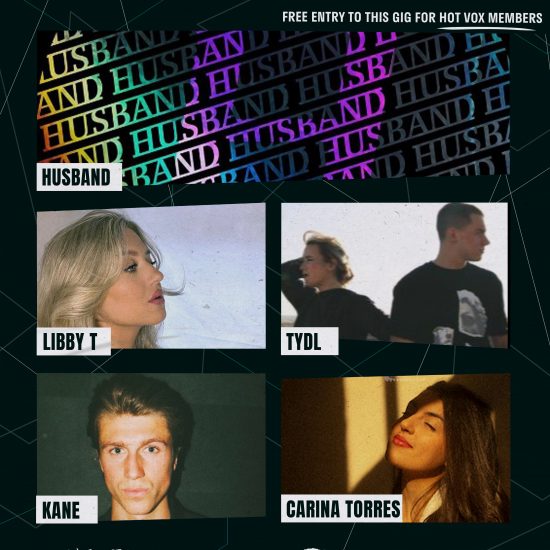 HOT VOX Presents: Husband // Libby T // TYDL // Kane // Abi Mia
Fri 4th Feb
7:30 pm - 11:45 pm
HOT VOX Presents:  Husband // Libby T // TYDL // Kane // Abi Mia
The Workshop is a little gem of a discovery underneath the Roadtrip Bar on Old Street. With an underground hacienda feel, this sweatbox venue is the perfect setting for bands cutting their teeth on the scene, or those wanting to get up close and personal with the crowd.
Husband
https://hotvox.co.uk/artist/husband/
London based independent alt-rock band HUSBAND has already received airplay in the UK and US. Their uncompromising brand of alternative rock and indie has caught the spirit of listeners all over the world, with over 150k plays on Spotify, with music inspired by the likes of Radiohead, Nick Cave, The National and PJ Harvey.Unsigned and self-funded HUSBAND has built up a significant following in a very short period of time. Their unique sound is the result of a disparate gang of musicians brings very different influences to one band. The result is an unique sound that combine strong melodic hooks with an emotional impact.
Libby T
https://hotvox.co.uk/artist/libby-t/
Libby T combines her soulful R&B vocals with her passion for writing music with emotional depth. She uses this to connect with others through her music and to dive into universally relatable themes. Drawing inspiration from female artists such as Ella Mai and Kiana Ledé, Libby has developed her love for vocal artistry and lyrical expression. Through lockdown, Libby has spent her time refining her artistry and finding her voice through her music,so is now spending her time in the studio with lots of exciting projects to come. Libby's recent releases "Selfish" and "Home To You" got plays on multiple local radio stations and were both chosen as BBC introducing's track of the day on BBC Sussex.
TYDL
https://hotvox.co.uk/artist/tydl/The sound of TYDL is an exciting fusion of musical influences.
With catchy pop vocals, guitar riffs and driving drums, their unique sound defies genre. Think, Sigrid, Bastille and Avicii coming together.
The band, fronted by Rebecca with percussionist Jack, have performed at Brighton's Concorde 2, Komedia and other prestigious venues in the diverse city. The chemistry of the band is easily seen in their energetic live performances where audience engagement is a main focus of the TYDL experience.
With their first 3 singles out and a debut EP on the way, TYDL are definitely a band to keep your eye on.
Kane
https://hotvox.co.uk/artist/kane/Hailing from Leicester, Kane Cooper is a multi-instrumentalist singer-songwriter with bold, emotional vocals. From as early as 10 years-old he was performing in concerts which helped to develop a passion for live music, but it was more recently that this passion was turned into a career. After returning from working in Australia, Cooper had a plan to travel, but was put on hold due to Covid-19 restrictions. Instead of sitting at home sulking, this Leicester lad took advantage of the time on his hands and started recording original material as KANE. He released his debut track 'Guilty' last year and after such a positive response he is back with more high energy tracks to show the world.
Abi Mia
https://hotvox.co.uk/artist/abi-mia/
Abi Mia's empowered brand of pop is exactly what the music world has been crying out for. With a stunning voice, evocative lyricism, and unwavering confidence, the London based singer has quickly emerged as one of pop music's most vital young voices.
Abi Mia is the rare artist capable of transforming her personal experiences into breathtaking songs with universal appeal. As a result, she connects with her fans on a deeper level, inviting them into her world as she learns, heals, and grows. Since breaking through with the acclaimed single 'Shadow,' Abi Mia has been on a creative hot-streak, revealing new sides of her artistry with every song.