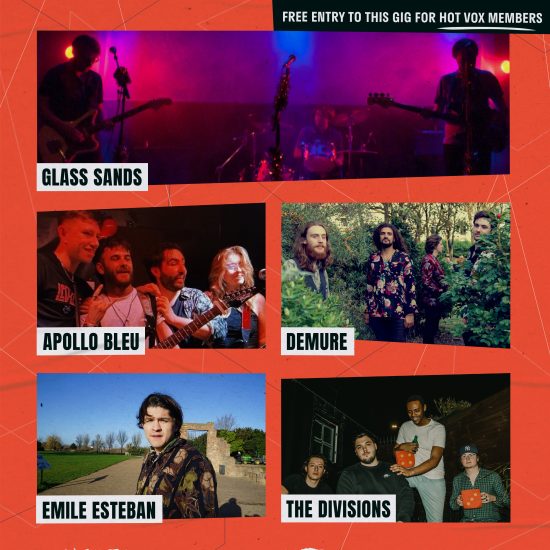 HOT VOX Presents: Glass Sands // Apollo Bleu // Demure // Emile Esteban // The Divisions
Fri 5th Aug
7:00 pm - 11:00 pm
HOT VOX Presents: Glass Sands // Apollo Bleu // Demure // Emile Esteban // The Divisions
The Workshop is a little gem of a discovery underneath the Roadtrip Bar on Old Street. With an underground hacienda feel, this sweatbox venue is the perfect setting for bands cutting their teeth on the scene, or those wanting to get up close and personal with the crowd.
Glass Sands
https://hotvox.co.uk/artist/chris-shackleton/
Based out of East London, Glass Sands play a kaleidoscopic mix of post-punk, krautrock and alternative that makes them essential listening for anyone looking for their new favourite underground rock band. Their second album "Better than Life" was recently released to rave reviews and the nine tracks found within are just a glimpse of what these guys can do on and off the stage.
"An overall versatile accomplishment that grows on you…Don't miss this!" – Turn Up the Volume
Apollo Bleu
https://hotvox.co.uk/artist/apollo-bleu/We are an up and coming four piece Rock/indie band from south east London / Dartford.
Dan on the drums, Jack with the lead guitar, Megan on the bass and yours truly Liam, lead singer and Rythm guitarist.
Playing all our own music, dealing in summer time nostalgia and hints of darkness. Sprinkled with adhd and riffs that will send you wild.
Doing our own thing, having a good time and looking to bring everyone along for the ride. Long Live Live Music.
Demure
https://hotvox.co.uk/artist/demure/Demure are a Brighton-based band that blends the flavour of rock with contemporary influences to create an alternative signature sound. They have spent the past year forming a strong community of followers through their numerous gigs and creative uses of social media, while the exciting performances create an engaged response from their varied audiences
Emile Esteban
https://hotvox.co.uk/artist/emile-esteban/
Emile Esteban is a Chilean / Mexican / Spanish singer-songwriter / guitarrist that make his way into the music throught mellow vocals and lead guitars.
The genre can be tagged as rock/pop but his unique style is the result of his many influences including artists such as; Johnny Lee Hooker, Marvin Gave, Jeff Buckley and Gary Clarck Jr.Following his first release on 2020, CHASING, his latest independent EP-release is available on all platforms and ready to be shown on the stage.
Emile will take you into a trip surrounded by textures and classic sounds from the rhythm and blues.
The Divisions
https://hotvox.co.uk/artist/the-divisions/The Divisions are young, four-piece indie band from London with a diverse range of sounds and influences from 80s post-punk to 90s Britpop. They began gigging the London circuit in the summer of 2018, playing iconic venues such as Water Rats and St. Moritz.