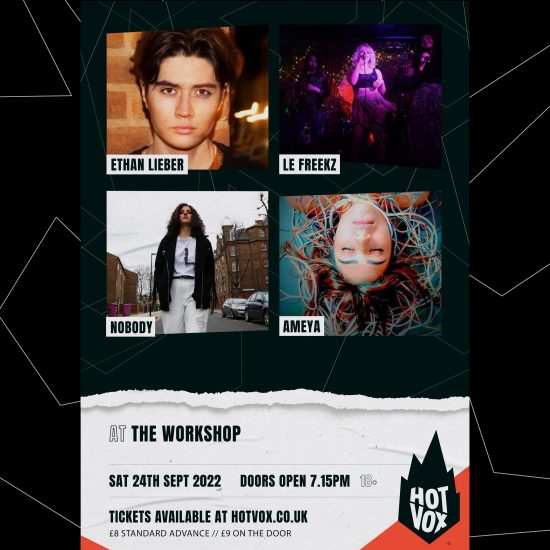 HOT VOX Presents: Ethan Lieber // Le Freekz // Nobody // AmeyA
Sat 24th Sep
7:00 pm - 11:00 pm
The Workshop is a little gem of a discovery underneath the Roadtrip Bar on Old Street. With an underground hacienda feel, this sweatbox venue is the perfect setting for bands cutting their teeth on the scene, or those wanting to get up close and personal with the crowd.
Ethan Lieber
https://hotvox.co.uk/artist/ethan-lieber/
Ethan is a singer songwriter, performer, composer and producer who currently attends the Royal College of Music. His interest in music began at an early age.  After studying at Junior Guildhall, a love of composition arose out of piano improvisation, which formulated into compositions and stage performances.Instrumentally, Ethan plays piano and guitar. His songwriting now draws upon R&B, funk and soul, with hip hop and latin beats,  His songs explore personal anecdotes exemplifying human relationships and as a young composer Ethan is drawn to explore the value of love.
Le Freekz
https://hotvox.co.uk/artist/le-freekz/
This new band is a collective of musicians mixed together with disco, funk and soul.
This Manchester band is set to release 2 new singles in the summer of 2022 before embarking on a string of events in the north of England.
Le Freekz have already performed to a sold out Manchester and London gig and are hoping to get back on the stage again for more grooves and moves.
The band consists of 2 harmonizing vocalists, sexy saxophone, 2 beautifully blending guitars, phat funky bass and drums of power!
Nobody
https://hotvox.co.uk/artist/nobody/
Inspired by Pirandello's theory of masks of the 20th Century, Nobody writes about her struggles with being authentic to herself and building real relationships. Her artist name draws from Pirandello's novel One, No One, One Hundred Thousand, which focuses upon our behaviour: we are individuals, but also seen as one hundred thousand other versions of ourselves, so, eventually, we are nobody.
Giulia is a young Italian singer-songwriter based in London. At 18 she started performing as a solo artist and released her debut pop-rock EP. Three years later, she moved to London to further pursue her musical career and developed her new artist name Nobody along with her new alt-pop sound.
AmeyA
https://hotvox.co.uk/artist/ameya/
I am an aspiring British Indian Artist and I have ASD Asperger's.  I began my musical journey at the age of 7 by listening, singing and developing a passion for all genres of music. At the age of 11 I released my first single 'Release Me'. This song from a young perspective started to get noticed and within weeks I was being interviewed on BBC Radio where it was announced as 'Track of the Week'. By the age of 13 I had 5 original songs published. My music has been about deep, meaningful issues which I live with. I explore, write and sing about Mental Health and Social Anxieties.