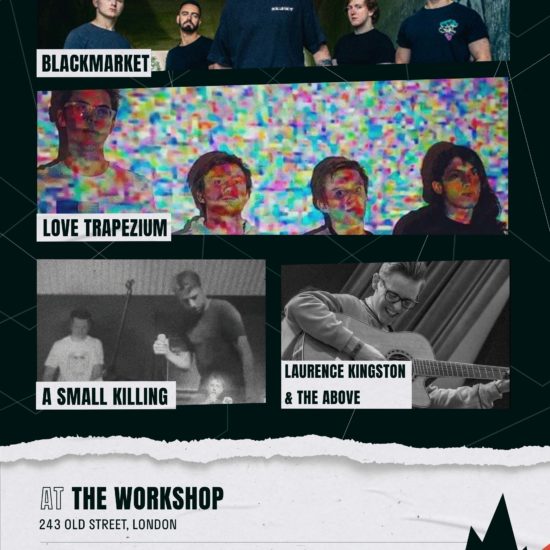 HOT VOX Presents: Blackmarket // Love Trapezium // A Small Killing // Laurence Kingston & The Above
HOT VOX Presents: BlackMarket // LOVE TRAPEZIUM // A Small Killing // Laurence Kingston & The Above
The Workshop is a little gem of a discovery underneath the Roadtrip Bar on Old Street. With an underground hacienda feel, this sweatbox venue is the perfect setting for bands cutting their teeth on the scene, or those wanting to get up close and personal with the crowd.
BlackMarket
https://hotvox.co.uk/artist/blackmarket/
A stylistically unique Rock Band from day one. BlackMarket are a 5 piece band established in Watford in 2017.Throughout the course of the band's union, they have won over the hearts of music lovers from all walks of life; performing at a variety of venues, making loads of public appearances, all the while recording new music.
Their influences include bands such as Enter Shikari, A Day To Remember and I Prevail.
BlackMarket released their self-titled debut album on the 16th of January 2021 – available on all music streaming services.
Fraser Burrow – Vocals
Danny Leigh – Lead Guitar
Scott Turnley – Bass Guitar
Hadleigh Wade – Drums
Cary Leigh – Synth
LOVE TRAPEZIUM
https://hotvox.co.uk/artist/love-trapezium/LOVE TRAPEZIUM have extensive gig/festival experience, having played several shows throughout the UK, supporting acts like Malena Zavala, DAME and GiedRė, at venues like Camden (Barfly) Assembly, Underbelly Hoxton, & Mulligan's (Edinburgh Fringe).
With a knack for garnering press coverage (BuzzFeed, Yahoo, BBC etc) & a growing young online audience, this UK act has huge momentum for 2021.
LOVE TRAPEZIUM exploded last year, gaining 70,000 followers on TikTok from their hit THE AVENUES in just a few months.
They're known for their unique music videos, using deepfakes, painting AI, and footage of the band as kids spanning 11 years.
A Small Killing
https://hotvox.co.uk/artist/a-small-killing/A Small Killing are a MIDI punk two-piece featuring Joe Daly (vocals, sampler) and Matt Fletcher (drums). Exiled from Birmingham, they met in Paris and are now making music in London. Expect catchy hooks, irrestistable grooves and compelling, ghost-of-Scott-Walker vocals.
Laurence Kingston & The Above
https://hotvox.co.uk/artist/laurence-kingston-the-above/Hi ,I'm 18 and playing original indie/pop music with a 3 piece backing band or solo based in Norwich, we have been playing together since February 2018 and slowly building a loyal fan base , we have released multiple albums and EPs and are looking for bigger opportunities to grow.