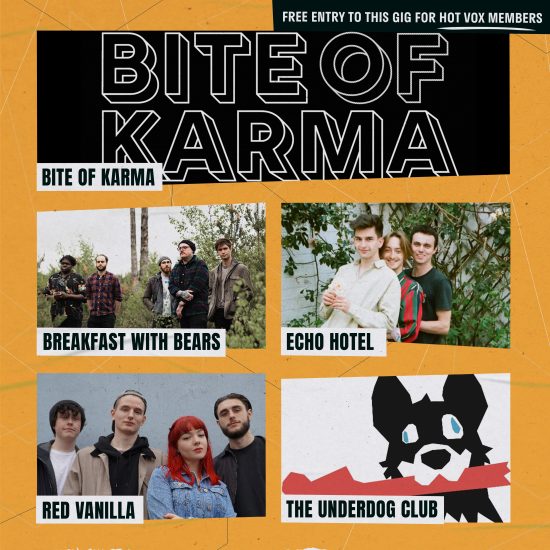 HOT VOX Presents: Bite of Karma // Breakfast With Bears // Echo Hotel // Red Vanilla // The Underdog Club
Fri 14th Jan
7:00 pm - 11:00 pm
HOT VOX Presents:  Bite of Karma // Breakfast With Bears // Echo Hotel // Red Vanilla // The Underdog Club
The Workshop is a little gem of a discovery underneath the Roadtrip Bar on Old Street. With an underground hacienda feel, this sweatbox venue is the perfect setting for bands cutting their teeth on the scene, or those wanting to get up close and personal with the crowd.
Bite of Karma
https://hotvox.co.uk/artist/bite-of-karma/
Formed at the end of 2019 Bite of Karma was put together by guitarist Thomas Hill, after years of being in bands gathering experience and observing what was going on in the music world. The band is a mix of musicians that were found along the path that ultimately led to the formation of Bite of Karma. This makes the band a very eclectic mix of members from all over the world and all kinds of backgrounds with a strong passion for rock music in all it's variants. Their sound sits right in the middle of indie rock and alternative rock, combining the best of both worlds to create a new sound, with huge stadium-ready-sing-along choruses and face melting guitar riffs and drum fills.
Breakfast With Bears
https://hotvox.co.uk/artist/breakfast-with-bears/
We are Breakfast With Bears; an alternative indie- rock 5 piece based in London drawing influence from math rock and midwest emo with the likes of Bloc Party, Delta Sleep and Foxing.
Earlier this year we played a sold out show at the Amersham Arms in New Cross and are soon to be playing a gig at the Rocksteady in Dalston.
We released our debut EP 'Staycation' earlier in the year, (recorded at yellow arch studios in Sheffield) which was then played on BBC Introducing.
Echo Hotel
https://hotvox.co.uk/artist/echo-hotel/
Echo Hotel is a London-based alt-indie outfit with a lot to explore. With their tightly-wound rhythms, fitul guitars and lush woodwind arrangements they spin tales seeped in breathless anxiety, jaded satire and heartbreak – sometimes all at once. With support from Fresh on the Net, BBC 6Music, BBC Bristol and Musosup HQ, the band only grows more confident in their sound – and they're still just getting started.
Red Vanilla
https://hotvox.co.uk/artist/red-vanilla/Dundee based Alternative Rock band.
Our sound varies from melodic soundscapes to heavy distorted riffs that maintain a pop hook throughout.
We've played across Scotland in cities such as Glasgow, Aberdeen, Perth and have a mini tour booked for December in England.
The Underdog Club
https://hotvox.co.uk/artist/the-underdog-club/In a world driven mad by isolation, uncertainty and poetry nights who is left to stand up for what is right and how to steal your neighbour's WiFi?
That's right, The Underdog Club is here to save the day!
The Underdog Club is a one man alt rock band capable of bringing down the house with slick guitar moves and belting vocals put to pro backing tracks. This gives audiences the full band sound with non of the hassle!
With a stringing of banging singles available for your listening pleasure you'll agree that The Underdog Club has a future so bright that shades will have to be worn indoors.