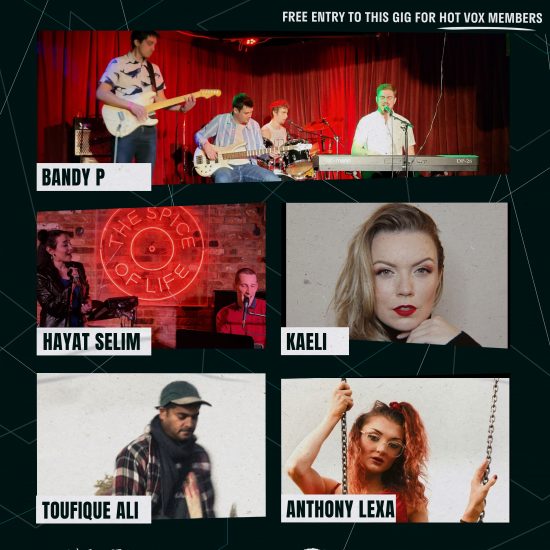 HOT VOX Presents: Bandy P // Hayat Selim Feat. Brian Hughes // KAELI // Toufique Ali // Anthony Lexa
Fri 1st Apr
7:00 pm - 11:00 pm
HOT VOX Presents:  Bandy P // Hayat Selim Feat. Brian Hughes // KAELI // Toufique Ali // Anthony Lexa
The Workshop is a little gem of a discovery underneath the Roadtrip Bar on Old Street. With an underground hacienda feel, this sweatbox venue is the perfect setting for bands cutting their teeth on the scene, or those wanting to get up close and personal with the crowd.
Bandy P
https://hotvox.co.uk/artist/bandy-p/
Meeting at Exeter Uni in 2015, Bandy P are a band based in London and Bristol, with a mixture of pop, rock, indie, and acoustic songs. They have a selection of songs they've written over the past few years that they will be performing at the gig.They've been performing live since December 2017, and are enjoying being able to gig again!
Hayat Selim Feat. Brian Hughes
https://hotvox.co.uk/artist/hayat-selim/Hayat Selim is an Egyptian London based singer, songwriter and media composer. She moved to the United Kingdom in 2017 on a scholarship to do her masters in composition for screen at the Royal College of Music, London, and graduated in 2019.
Hayat's compositional work varies from game and film music, to advertisement and her solo artist project in various genres, mainly fusing Western classical cinematic orchestration with world music influences. Her song 'Mirage' for the short film by Lena Srinivasan was nominated in the 'Best Song' category of the Jerry Goldsmith Awards 2019 and started opening doors in singing on media projects.
In 2020, Hayat was commissioned by Sonuscore and Steinberg to be the featured singer of the 'Ethnic Vocal Phrases' virtual instrument library and has sung on various games and film scores since incl. 'Age of Empires IV'.
KAELI
https://hotvox.co.uk/artist/kaeli/New to the music scene, but not unfamiliar with the stage, KAELI is a singer-songwriter from London. Beginning her career by treading the boards in theatre, and eventually touring arenas worldwide as a featured vocalist for film star Hugh Jackman, it hasn't been a conventional route into the music industry. But 2022 sees KAELI finally find her own voice. Combining soaring vocals, and honest lyrics with an effervescent pop sound, KAELI hopes to bring her lively energy and openness to every track. KAELI is signed by Abubilla Music, and recently released her debut EP, Kaleidoscope.
Toufique Ali
https://hotvox.co.uk/artist/toufique-ali/British Bengali Singer Songwriter, Toufique Ali is playing his second gig in London since 2018 and is looking forward to getting back on track with his music going into 2022
Currently based in West London (via Bristol) his mixture of melodic, americana sounding guitar music crosses with a 90s grunge influence that emulates other bands from that era including the Lemonheads and Dinosaur Jr.
This time he's in full tow of a live band with a full compliment of guitars/ bass and drums; so expect a sound that's going to be LOUD!
Anthony Lexa
https://hotvox.co.uk/artist/ant/Anthony Lexa, a baby to the new wave of pop. Her aim is to empower her audiences with words of encouragement for those that are named "different" in this world. However, her EDM, funky sound will definitely get you up for a dance! All of her music is written and/or self produced by Anthony Lexa herself.