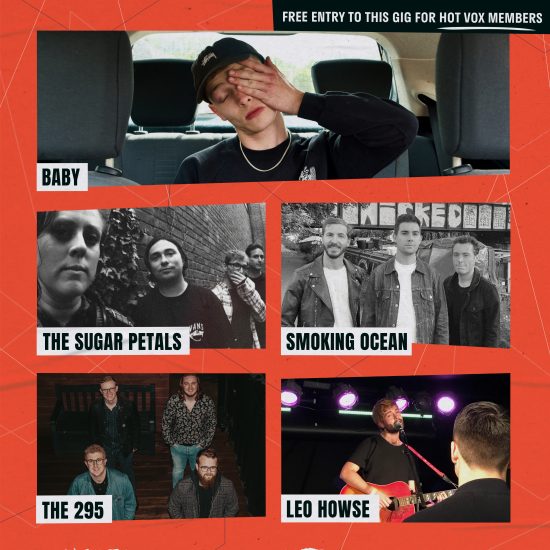 HOT VOX Presents: BABY // The Sugar Petals // Smoking Ocean // The 295 // Leo Howse
Fri 14th Oct
7:00 pm - 11:00 pm
HOT VOX Presents: BABY // The Sugar Petals // Smoking Ocean // The 295 // Leo Howse
The Workshop is a little gem of a discovery underneath the Roadtrip Bar on Old Street. With an underground hacienda feel, this sweatbox venue is the perfect setting for bands cutting their teeth on the scene, or those wanting to get up close and personal with the crowd.
BABY
https://hotvox.co.uk/artist/baby/
Started in his childhood bedroom on an old MacBook, Kent based Luke began making tunes under the "BABY" in an attempt to keep sane amongst the beige and grey monotony of suburban living as a working class twenty something.Inspired by the scrapbook mentality of British counter-culture, BABY encapsulates a range of genres, blending them into his own unique and captivating concoction of kitchen sink storytelling and D.I.Y beats.With the genesis of a raucous live show and an extensive catalogue of lockdown demos, BABY promises there's "plenty more in the pipeline", with hints that future tunes will take as much inspiration from late 70s punk as they do from modern electronica.
The Sugar Petals
https://hotvox.co.uk/artist/the-sugar-petals/The Sugar Petals are a 4-piece indie pop band from Hertfordshire/Lincoln. The band's sound is built on flowing chords, jangly melodies and melancholy vibes combined with a DIY ethos. Don't be fooled by the 90's resurgence connections as the band brings a fresh blend of shoe-gaze and modern indie in creating their unique sound. The brand new single "All I Have" is available now on all major streaming platforms.
Smoking Ocean
https://hotvox.co.uk/artist/smoking-ocean/Smoking Ocean is an English rock band. Formed in 2022 in East London.
Bringing powerful riffs, creative bassline and hard-hitting drums.
Instagram: @smokingocean
Soundcloud: https://soundcloud.com/smokingocean
The 295
https://hotvox.co.uk/artist/the-295/Hailing from South West London, and producing a rough and ready rock sound, The 295 are a band to watch!
Having played a number of famous indie venues, both in London and around the UK, the band have spent the past few years expanding and perfecting their sound; a mesh of brit-pop, rock, and other genres that keeps listeners on their toes, as well as up and dancing to the grooves.
Since their inception in January of 2019, the band have grown their fanbase and continued working hard to bring their fans – old and new, hardcore and casual – the best songs and content that they can produce.
Give 'em a listen! They promise it'll make your life A Little Bit Better. x
Leo Howse
https://hotvox.co.uk/artist/leo-howse/Over the past year, Leo Howse has bagged support slots with Carl Barat and Mark Morriss as well as being nominated as Best Male Solo Act in the 2021 NMG Awards. His chaotic performances, catchy vocals and feel-good energy make his gigs ideal for any music lover looking for a fun night out that doesn't stop at the music. With an eclectic back-catalogue, ranging from Mouldy Peaches style anti-Folk, to Divine Comedy inspired pop bangers, his latest project comes in the form of Take a Good Look and Don't Become It, a soul/motown EP which will be out for your listening pleasure on the 14th of October.