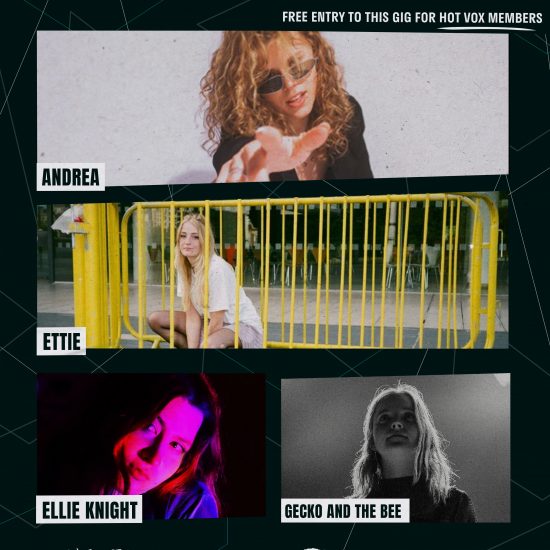 HOT VOX Presents: ANDREA // Ettie // Ellie Knight // Gecko and the Bee
Fri 8th Apr
7:00 pm - 11:00 pm
HOT VOX Presents: ANDREA // Ettie // Ellie Knight // Gecko and the Bee 
The Workshop is a little gem of a discovery underneath the Roadtrip Bar on Old Street. With an underground hacienda feel, this sweatbox venue is the perfect setting for bands cutting their teeth on the scene, or those wanting to get up close and personal with the crowd.
ANDREA
https://hotvox.co.uk/artist/andrea-2/
ANDREA is fronting female artists/producers to the fullest being all hands on with her projects, writing and producing all of the songs herself.
She eagers to push boundaries with her music taking inspiration from being born in Norway with chilean roots, growing up in Spain, and now being based in London. The 20 year old singer/songwriter/producer released 3 singles at the end of 2021, and is now ready to take on 2022 with more music lined up.
Live she brings her drummer brother to make a great sounding show filled with energy, dancing, and incredible vocals!
Ettie
https://hotvox.co.uk/artist/ettie/
ettie is an up-and-coming singer-songwriter who drinks a lot of wine and has a lot of feelings. As an English Literature graduate and connoisseur of millennial angst, she has a talent for playing with words and concepts embedded in our society, to create a unique brand of storytelling.
This is an honest and blunt type of alt-pop that aims to get at your core without getting under your skin. Over the last 2 years of releasing music, ettie has fully come into her identity. Now an out queer artist and songwriter, she is no longer holding back in her music.
Ellie Knight
https://hotvox.co.uk/artist/ellie-knight/Ellie Knight is a 20 year-old Leeds based singer/songwriter/producer, whose sound is an alternative and melody-heavy take on 2000s pop, with hints of electro pop, dream pop and synthwave. She has been songwriting and performing for 3 years, and started producing over the pandemic, learning from scratch over Zoom. Her vocals have been described as having a "punchy attitude" with "upbeat and empowering lyrics," often inspired by artists such as Charli XCX, Dua Lipa and Taylor Swift, giving that sing along in the car/shower/bedroom energy.
Gecko and the Bee
https://hotvox.co.uk/artist/gecko-and-the-bee/Layering honest lyrics with delicate vocals and atmospheric melodies. In 2020, she followed up her EPs with a new self-produced album 'Songs For Me' that showcased her diverse skills as a singer-songwriter. Layered on fingerpicking, strumming, or harmonies, Gecko and The Bee's sound are captivating and honest. Establishing her own brand of atmospheric folk, she has proved big stages or listenership won't frighten her but instead broaden the audience for her universal appeal.