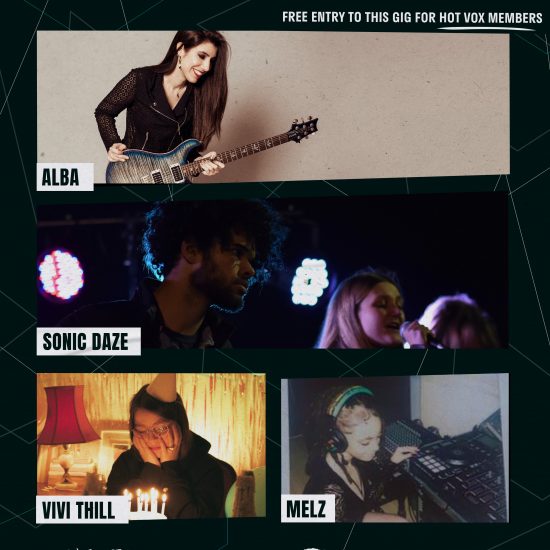 HOT VOX Presents: ALBA // Sonic Daze // Vivi Thill // Melz
Fri 8th Jul
7:00 pm - 11:00 pm
The Workshop is a little gem of a discovery underneath the Roadtrip Bar on Old Street. With an underground hacienda feel, this sweatbox venue is the perfect setting for bands cutting their teeth on the scene, or those wanting to get up close and personal with the crowd.
ALBA
https://hotvox.co.uk/artist/alba-3/
"A smoky, soulful voice, provocative lyrics, and extraordinary guitar playing make her one of the most talented musicians in this generation" – Never Enough MusicThe Spanish-born and London-living artist has developed a timelessly classic yet fresh sound with undertones of neo-soul, funk and R&B.
ALBA is a passionate environmental campaigner and likes to use her music to make a difference and speak up about social and climate issues.
Following a string of critically acclaimed single releases; her music has been added to rotation in radios around the globe, and has received coverage from well-known tastemakers such as Guitar magazine, Wonderland magazine, Amazing Radio and BBC Radio.
Sonic Daze
https://hotvox.co.uk/artist/sonic-daze/Meet Sonic Daze, a young, fresh music duo from West London.
Sonic Daze is fronted by BRIT School students, rapper Archie Elliot and singer Rosie Trentham, who both write and produce their work. Their set includes jazz influenced British hip-hop originals accompanied with either a live band or Ableton push. Rosie's ethereal vocals blended with Archie's introspective lyricism create an individualistic sound, reminiscent of the 90s.
Sonic Daze perform at venues & festivals around London, including sold out shows at The Fiddler in Kilburn, The Hoxton Underbelly and The Exchange, Twickenham. Other venues include Notting Hill Arts Club, Amersham Arms and Stanley Arts Hall.
Following their debut single 'Don't Rile the Young', they are working on a larger project, as well as singles to be released over the next year.
Vivi Thill
https://hotvox.co.uk/artist/vivi-thill/Vivi is a 20-year-old pop artist and songwriter living in London.
Since performing her first original song on stage at just 13 years old, Vivi has grown into a pop songwriting powerhouse. Her cleverly crafted, lyric-driven songs make you feel like you're in a coming-of-age movie, learning life's lessons alongside her. Her bass-heavy, dark sound and her playful lyric-writing creates unique and intriguing songs that you will not be able to get out of your head.
After Vivi's debut single gathered an astonishing 10k streams within its first week, making her followers already excited for her second single, 'i don't like my birthday', which will be released on June 8th, Vivi's 21st birthday.
Melz
https://hotvox.co.uk/artist/melz/Hey! I'm Melz, im a 18 year old singer/songwriter from London.★彡
Music is the glue that holds my life together, I've gigged around central London in places like Soho, Waterloo, Fitzrovia and love nothing more than the buzz of a good performance!
I write and produce my own music and am currently putting together my first ep