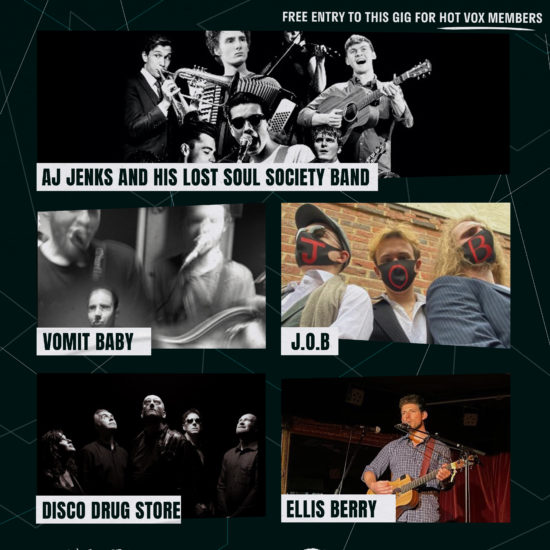 HOT VOX Presents: AJ Jenks And His Lost Soul Society Band // Vomit Baby // J.O.B // Disco Drug Store // Ellis Berry
Fri 28th Jan
7:00 pm - 11:00 pm
HOT VOX Presents:  AJ Jenks And His Lost Soul Society Band // Vomit Baby // J.O.B // Disco Drug Store // Ellis Berry
The Workshop is a little gem of a discovery underneath the Roadtrip Bar on Old Street. With an underground hacienda feel, this sweatbox venue is the perfect setting for bands cutting their teeth on the scene, or those wanting to get up close and personal with the crowd.
AJ Jenks And His Lost Soul Society Band
https://hotvox.co.uk/artist/aj-jenks/
A group made up of out of work actors and musicains trying to make a sound!mixing rock/alernative/jazz/blues & arguements!
Vomit Baby
https://hotvox.co.uk/artist/vomit-baby/
Playing a whirlwind of styles and packing out every show with unrelenting energy, Vomit Baby are sure to raise pulses!Formed in West London/Berks by Kurt Fry (Drums), Charlie Hood (Bass) and Tyler Joel (Guitar/Vox), expect to hear a barnstorming set comprised of a unique blend of Punk, Metal, Psychedelia and much more!Vomit Baby began playing together at the end of 2019 but were temporarily brought to a halt by the pandemic. Using the time to bounce riffs and sections off of each other via electronic means, the band began to put together a selection of demos.The result? A 45 minute ride filled with catchy tunes, infectious grooves and fast-paced jams designed for the live arena!
J.O.B
https://hotvox.co.uk/artist/j-o-b/J.O.B are an Alternative Rock Trio from East London, forming in 2018 from school. They're known to pack a punch with their heavy and anthemic style as heard in their hugely energetic live shows, captured in their debut album "Free Your Mind" released Sept 2019 to the acclaim of national radio stations Union Jack and BBC introducing. The Water Rats, The Monarch, The Raven, and The Fiddler are just some of the venues the band have played throughout London and Essex, which also include slots for Camden Rocks Presents.
Disco Drug Store
https://hotvox.co.uk/artist/disco-drug-store/Reformed after Covid, Disco Drug Store take their influences from Bowie, Nirvana, Punk Rock and hints of 1970s Glam Rock.
The band, made up of original members David – vocals and guitar, Duncan Crundwell – Bass, Steve Marshall – Keyboards and Ian Gardiner – lead guitar, have had various drummers over the years, but have always kept the main core of the band the same and continue to produce their own brand of exciting, guitar music. The line-up is now complete with Becky Scott-Daly on drums.
Disco Drug Store are a guitar band with quirky lyrics, great tunes, and a slight disco influence……………like Oasis with a GCSE in Art!
Ellis Berry
https://hotvox.co.uk/artist/ellis-berry/I am a singer-songwriter from Southport in North West England, now based in London, UK. I began recording and self-releasing music in 2020 with the release of three singles and my first EP 'Cabin Fever'.
I want to make music that really hits peoples emotions through meaningful lyrics and I try to do this with both sad and happy songs about different things I have experienced from heartbreak and love, to life changes and nostalgic feelings. I play live using a loop pedal to create a bit more of an atmosphere since it is just me and my guitar!