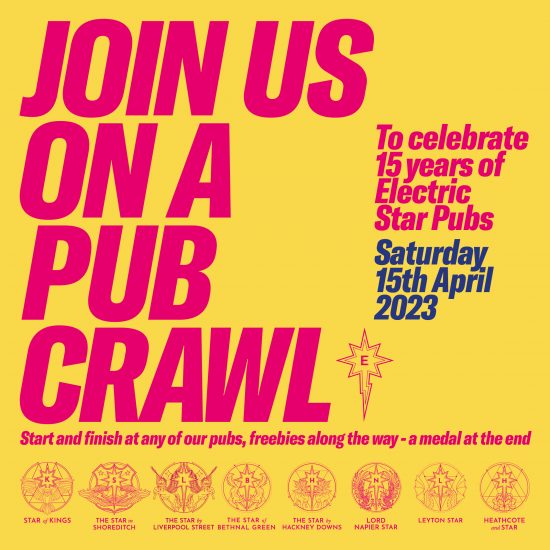 Electric Star Pubs 15th Birthday Pub Crawl
Sat 15th Apr
12:00 pm - 3:00 am
Electric Star Pubs is turning 15 years old this April!
Electric Star Pubs, founded by Rob Star, turns 15 in April. To mark the occasion, we will be celebrating with a pub crawl around all 8 of the Electric Star sites on Saturday 15th April.
Participants will be given a card to be stamped at each pub, getting their last drink free. Softs, halves and alcohol-free options will be on offer too.
To add a competitive edge, there will be medals to collect and each pub will be giving out free party extras, including, cake, snacks, shots and karaoke. There will be a 'suggested' route, but people are free to visit the sites in any order.
Since its launch in 2008, with the opening of the Star of Bethnal Green, Star pubs have become a real feature of East London, breathing life into historic pubs and venues. Each site brings its own unique, distinct character, quality music, food, drink and great events and entertainment.