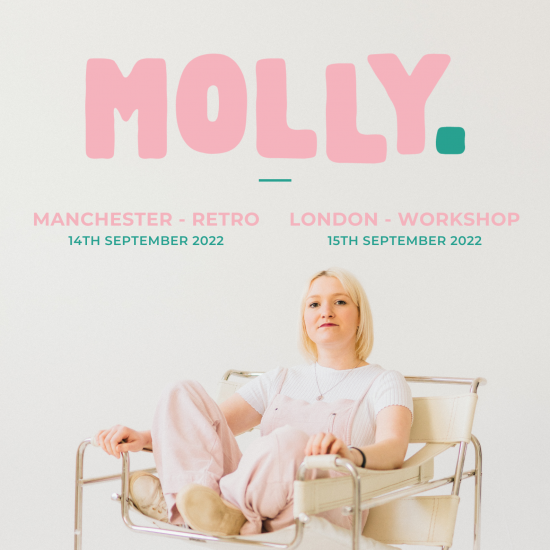 Blinding Talent presents MOLLY
Thu 15th Sep
7:30 pm - 10:00 pm
MOLLY.
Lancashire, UK born Molly. is armed with strength and individuality. Her tough exterior blends with her soft, vulnerable core – a combination that shines through in her honest music. Through intoxicating indie-pop melodies and powerhouse vocals, Molly. is establishing herself as an accomplished emerging artist and a force to be reckoned with.
Molly. has been gigging since her teens, with performances at countless festivals around the UK and Ireland. Over the past year, Molly. has released a slew of sensational indie-pop singles, each with streaming numbers in the tens of thousands and with hundreds of plays on-air.
Molly. stands up for a generation with ambition and a desire to make a difference. Her mission to overcome hardships and negativity is delivered with revelatory freshness and pragmatism. Molly. is keen to emphasise the importance of remaining true to yourself and sticking to what you love.
KATEY BROOKS
Katey Brooks is a rebellious artist that resists formula. The 'powerful' (Evening Standard) songstress defies easy classification, with a sound blending folk, soul, blues and Americana. Her versatility has become one of her biggest assets when lending her voice to different genres and moods. She has released several records over the years, with her most recent album Revolute receiving huge critical acclaim across the globe including a 'Best Album of the Year' credit from music magazine Popdust. Her tracks have received an enthusiastic reception from radio stations around the UK and internationally, including BBC Radio 2, BBC 6 Music and CBC Canada.
DRCY
Splitting her time between London and Liverpool, R&B pop artist DRCY creates music that touches on topics ranging from love, lust, heartbreak and everything in between. As a teenage girl trying to navigate her way through life, her songs are raw, honest and vulnerable, allowing listeners to connect with her on a deeper level. Inspired by both old and new R&B, soul and Jazz, her passion for music stems from her childhood, having been raised in a family of musicians. With creativity running through her veins, there was no doubt that DRCY would follow a similar path to her parents, as she instantly dived headfirst into the industry and has since never looked back.
Doors 7.30pm