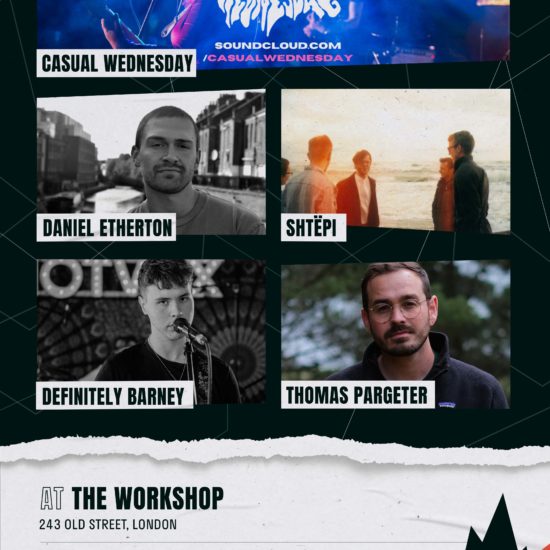 HOT VOX Presents:  Casual Wednesday // Daniel Etherton // Shtëpi // Definitely Barney // Thomas Pargeter
Fri 19th Nov
7:00 pm - 11:00 pm
HOT VOX Presents:  Casual Wednesday // Daniel Etherton // Shtëpi // Definitely Barney // Thomas Pargeter
The Workshop is a little gem of a discovery underneath the Roadtrip Bar on Old Street. With an underground hacienda feel, this sweatbox venue is the perfect setting for bands cutting their teeth on the scene, or those wanting to get up close and personal with the crowd.
Casual Wednesday
https://hotvox.co.uk/artist/casual-wednesday/
casual wednesday is the ethereal escapist solo project from londoner singer/songwriter natasha petrou. layered, progressive, inspired by decades gone by. it's music to dream to, it's the definition of DIY.why let fridays have all the fun?
Daniel Etherton
https://hotvox.co.uk/artist/daniel-etherton/Taking inspiration from emotionally charged lyricists; Daughter, Lorde, Bon Iver, The XX, Frank Ocean. Daniel's style has an honest tone which immediately evokes the feeling of nostalgia intertwined with modern relatability. Fusing pop sensibilities with a soulful undertone to create his storytelling aesthetic. Excited by the constant evolution of music and its ability to connect people.
Balancing his debut releases whilst working in the art-world, it is apparent how aesthetics greatly impacts his artistry both visually and sonically. Working with global emerging artists on branding for his animation and single artwork.
Shtëpi
https://hotvox.co.uk/artist/shtepi/Shtëpi are a trio from Guildford who's music is a combination of alternative rock, pop and jazz. The trios laid back sound consists of warm electric keys, funk inspired bass lines and playful guitar melodies.
Definitely Barney
https://hotvox.co.uk/artist/definitely-barney/Hi all. I'm Definitely Barney. I make alt-rock and vibey tunes all by myself from my bedroom. Hopefully one of these songs makes you feel badass…
Thomas Pargeter
https://hotvox.co.uk/artist/thomas-pargeter/